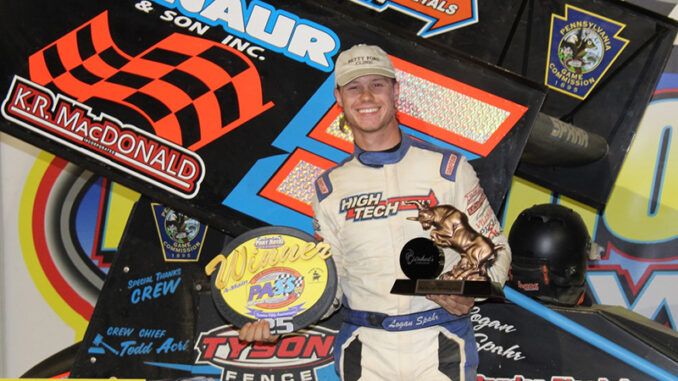 By Frank Buhrman
PORT ROYAL, Pa. (May 27, 2023) – The Logan Spahr dream season continued Saturday night at Port Royal Speedway when the Lewisberry driver captured his sixth straight River Valley Builders Pennsylvania Sprint Series feature win of 2023 in the 20-lap race that was part of the Bob Weikert Memorial weekend featuring the All Star Circuit of Champions.
The race ended up nearly a copy of the previous Saturday's win (number five) at Selinsgrove Speedway: Spahr drew an advantageous third starting position for the feature, but then had to follow a determined early leader, in this case Jared Zionkowski.
Spahr caught Zionkowski in traffic just past the race's midway point and executed the winning pass on lap 14, going outside a slower car as Zionkowski passed inside.
Finally, as with the previous week, a late caution flag gave Spahr's challenger one last shot, but Spahr was up to the task and pulled away for a three-second final margin of victory.
Zionkowski, a former semi-regular with PASS, nearly made his return after a season's absence one for the record books but settled for second. Seth Schnoke notched his fourth top-five finish in six starts with third, and Jeff Weaver took home a Port Royal career-best with fourth.
Ken Duke earned his fourth top-five in only five starts with fifth.
The IMCA RaceSaver Sprint Car win actually was Spahr's seventh straight, dating back to 2022's season-ending Keystone RaceSaver Challenge, also at Port Royal.
With three of this year's six wins coming at the "Speed Palace," he also jumps to the top in career wins among active PASS drivers at the Port with four.
Before Spahr's streak, the consecutive wins mark was held by Logan Wagner, who set it in 2011. The six straight 2023 wins bring Spahr halfway to Wagner's single-season victories mark of 12, set in 2013 and equaled last year by Garrett Bard.
2023 is the Silver Anniversary Season for the River Valley Builders PASS organization, which ran its first official race in 1999 and is one of the oldest and most successful of the IMCA RaceSaver sprint groups throughout the United States.
With 42 IMCA RaceSaver sprinters in the pits, qualifying was intensely competitive. Twenty-two of the 26 starters finished the main event.