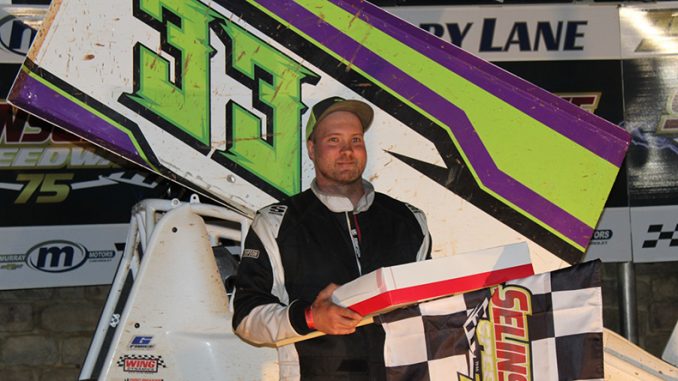 By Frank Buhrman
SELINSGROVE, Pa. (Sept. 25) – Derek Hauck put on a clinic Saturday night to post an emphatic, start-to-finish victory in the Pennsylvania Sprint Series 20-lap feature at Selinsgrove Speedway.
Hauck took advantage of a front-row starting position to grab the lead in the second turn of the opening lap and never looked back, negotiating traffic and holding off a late charge by Austin Reed to win by 1.246 seconds in a nonstop IMCA RaceSaver Sprint Car feature.
Work responsibilities have limited Hauck's racing this season to nine PASS starts, plus a few with the Laurel Highlands Sprint Series, but this was his second win and sixth top-five finish in those nine events.
While Hauck was roaring through the field in the lead, a battle including as many as four cars was raging behind him, first for the runner-up spot, until Reed laid claim there, then for third, where a late charge by Doug Dodson gave him that spot.
Veteran Fred Arnold, who started on the pole and was in the thick of the top-five battle all race long, finished a career-best fourth, with Dom Melair, also a race-long combatant in the top five, coming home fifth.
Justin Mills moved up nine spots to finish 11th while 2019 national and PASS champion Ken Duke got into the field as first alternate and started 24th, then advanced to 13th at the finish to earn the hard charger award.
Feature results — 1. Derek Hauck; 2. Austin Reed; 3. Doug Dodson; 4. Fred Arnold; 5. Dom Melair; 6. Paul Moyer; 7. Dustin Young; 8. Garrett Bard; 9. Will Brunson; 10. Mike Melair; 11. Justin Mills; 12. Devin Adams; 13. Ken Duke; 14. Drew Young; 15. Cale Reigle; 16. Mike Alleman; 17. Zach Rhodes; 18. Erin Statler; 19. Tom Wise; 20. Jason Roush; 21. Logan Spahr; 22. Tyler Snook; 23. Kassidy Kreitz; 24. Roger Weaver.