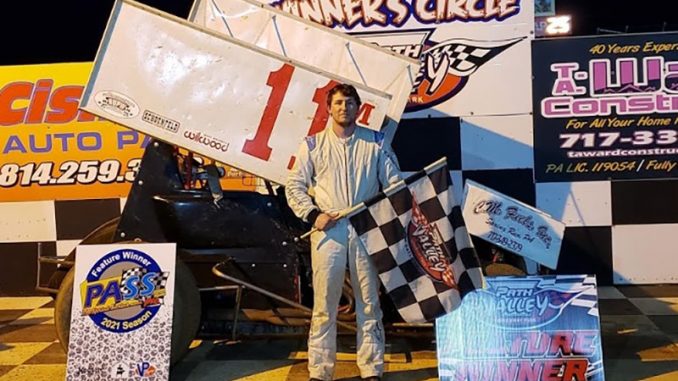 By Frank Buhrman
SPRING RUN, Pa. (April 17) – Full circle.
Mikell McGee, a fourth-generation member of the family that built Path Valley Speedway, collected his first Pennsylvania Sprint Series feature victory in Saturday night's 25-lap feature at his home track.
In only his tenth PASS race, McGee survived a fierce battle – and contact – with Kenny Heffner, who also was seeking his first PASS win. Then there was the green, white, checkered finish with defending PASS and IMCA RaceSaver Sprint Car national champion Garrett Bard on his bumper.
McGee faced and rose above those challenges and came home the winner.
Bard hung on for second, with second-year PASS driver Rowdy Heffner scoring a career-best third. Will Brunson also posted a career-best finish with his fourth and was the evening's hard charger, advancing nine positions after starting 13th. Austin Reed completed the top five.
The night was most disappointing for Heffner, who grabbed the early lead after fellow front-row starter Justin Mills jumped the cushion and had to retire his car. That made McGee Heffner's challenger and the two battled fiercely until they collided as McGee tried go get by on the low side in turn four.
Heffner was knocked out of shape but held on to the runner-up spot and continued to challenge until he spun in turn four and was clipped by John Walp. That ended Heffner's run.
McGee still had a couple of restarts to survive, including the final green, white, checkered but he delighted the large contingent of his fans on hand to hold the lead and record the win.
Feature results – 1. Mikell McGee; 2. Garrett Bard; 3. Rowdy Heffner; 4. Will Brunson; 5. Austin Reed; 6. Mike Alleman; 7. Zach Rhodes; 8. John Walp; 9. Dave Wickham; 10. Andrew Jacobus; 11. Kenny Heffner; 12. Jarrett Cavalet; 13. Chris Kreider; 14. Frank Rusnock; 15. Justin Mills; 16. Aaron Jacobus; 17. Andrew Boyer.