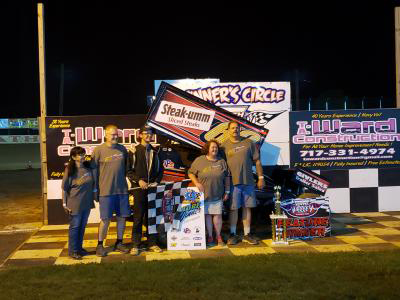 By Frank Buhrman 
SPRING RUN, Pa. (Aug. 14) – Fleetwood teenager Landon Price found the antidote for a brief racing slump Friday night, capturing the 25-lap Pennsylvania Sprint Series feature at Path Valley Speedway.
After an early-race battle for third with Garrett Bard, Price caught up with and passed leader John Walp and was untouchable from that point on in the IMCA RaceSaver Sprint Car main event.
Price would have come into the night's racing as a long shot. This was only his fourth Path Valley start, with a previous best of ninth, and ninth also was his best finish in his last six PASS events.
A two-time winner last year in his first full season steering a RaceSaver car, the young chauffeur seemed headed in the wrong direction before Friday corrected that impression.
His margin of victory was 2.571 seconds.
"I was so nervous the whole race," Price said in victory lane. "Those cautions just killed me. I kept get­ting tight getting into three and four. I was running in too hard, but there were some laps I re­ally got it going . . . and it feels good."
Walp and Bard had a torrid duel for the runner-up spot, with Bard taking it by inches in a side-by-side finish. Jake Frye, who was part of top-five battling throughout the race, finished fourth ahead of late-charging Ryan Lynn.
Feature results – 1. Landon Price; 2. Garrett Bard; 3. John Walp; 4. Jake Frye; 5. Ryan Lynn; 6. Larry McVay; 7. Cody Hackenberry; 8. Todd Lynn; 9. Ian Cumens; 10. Andrew Boyer; 11. Dome­nic Melair; 12. Kurt Knepper; 13. Kristina Pratt; 14. Kassidy Kreitz; 15. Josh Spicer; 16. Chris Kreider; 17. Kruz Kepner; 18. Donnie Hendershot; 19. Jim Kennedy.