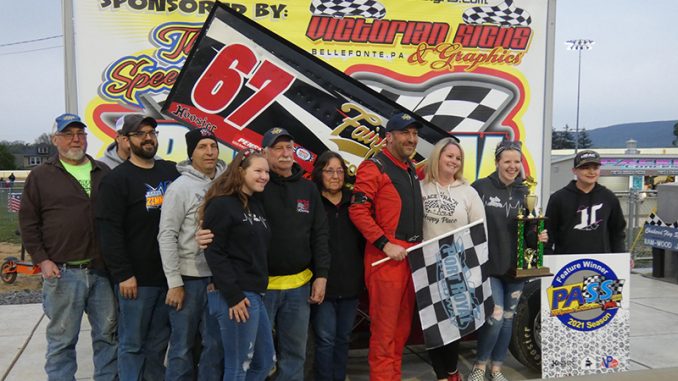 By Frank Buhrman
PORT ROYAL, PA. (APRIL 24) – "It seems like forever since we won a race."
For 2019 IMCA RaceSaver Sprint Car national and Pennsylvania Sprint Series champion Ken Duke Jr., that was an understandable thought. After scoring eight victories in that magical season, he only visited victory lane once in 2020, on July 11 at his hometown Selinsgrove Speedway.
There were plenty of good finishes – 12 top five's – but then only the one last year and none so far in 2021, so it made Saturday's Port Royal Speedway win, the 17th victory of his PASS career, special.
"We got a good pill draw tonight (starting second in the feature)," Duke said from victory lane. "The track was to our liking. They did a great job with the surface here. We got lucky, we started on the front row that makes things so much easier."
Duke slipped past fellow front-row starter Rowdy Heffner in the second turn of the first lap and was un­touchable in clean air, but some struggling in lapped traffic opened the door for an intense battle with Kas­sidy Kreitz, who actually took the lead on lap 13, only to have her pass erased when the race was stopped by a caution.
The restart put Duke back in front and he was never again challenged; the final margin of victory was 2.76 seconds.
"That lapped traffic back in the pack was pretty dicey," he said. "I was a little surprised – I shouldn't have been – about how much I was slowing down getting through lapped traffic. When Kassidy stuck her nose in there, she had me dead to rights, and she pulled off the pass, and we were just really lucky the red flag came out, we got back out in front in clean air, and I felt pretty good about it at that point."
Kreitz pulled off an amazing charge early in the race on the way to her career-best finish and nearly her first feature win. She moved from her 14th starting position to fourth on the first lap and was in second just a couple of laps later. Then she caught Duke in traffic, only to be victimized by the red flag.
Dave Grube II of York Springs, who hung in the top five throughout the race, finished third, with 2020 RaceSaver national and PASS champion Garrett Bard fourth. Austin Reed completed the top five.
Forty-five RaceSaver sprints were on hand for the Open Wheel Madness program.
PASS returns to the Port Royal "Speed Palace" next Saturday. The series then makes its second 2020 appearance at Selinsgrove Speedway on May 8.
Feature results – 1. Ken Duke Jr.; 2. Kassidy Kreitz; 3. Dave Grube II; 4. Garrett Bard; 5. Austin Reed; 6. Doug Dodson; 7. Rowdy Heffner; 8. Mikell McGee; 9. Nick Sweigart; 10. Jeff Weaver; 11. Andrew Boyer; 12. Justin Mills; 13. Roger Irvine; 14. Jimmy White; 15. Austin Graby; 16. Tom Wise; 17. Mike Melair; 18. Josh Bricker; 19. Kenny Heffner; 20. Mike Alleman; 21. Drew Young; 22. Dustin Young; 23. Danny Wise; 24. Will Brunson; 25. Dom Melair; 26. Ian Detweiler.