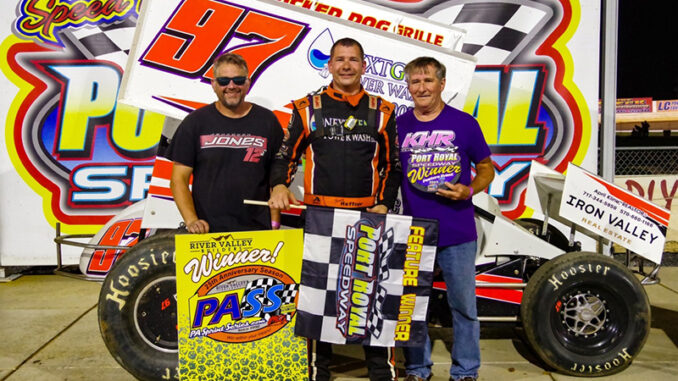 By Frank Buhrman
PORT ROYAL, Pa. (July 15, 2023) – Kenny Heffner came out on top of a fierce, three-way battle for the lead Saturday night at Port Royal Speedway, re-taking the top spot from Zach Rhodes with two laps to go to win the 20-lap feature for the River Valley Builders Pennsylvania Sprint Series.
Veteran Roger Irvine, who led early in the race and was the other racer in the fight for victory, came home third.
The IMCA RaceSaver Sprint Car barnburner had a story for each of the drivers seeking the win.
For Heffner, the victory was his career fourth and third at Port Royal, but his first since joining with former PASS regular Cale Reigle as car owner.
Rhodes was seeking his first-ever PASS victory, although he won a Virginia Sprint Series feature earlier this year at Winchester, Va.
Irvine has been a PASS racer since 2004, skipping a couple of years along the way and driving only once or twice in others, and has four career wins, but the last was 10 years ago.
The Heffner and Rhodes stories also have a parallel element: Last year both drivers' family-backed teams ran into problems, and at about the same time Reigle came forward to make his car available to Heffner, Rhodes was given the opportunity to drive the Weaver Racing car formerly driven by Roger Weaver. Both combinations have been successful.
All three drivers are regularly competitive, with seven top-five finishes between them so far in 2023, but a victory would have been truly special to any of them.
Heffner got it.
The eventual winner started on the pole, with Rhodes beside him, but third-starting Irvine took the initial lead and paced the field for three laps before caution on lap four for a spinning D.J. Cassler (who kept running) slowed the field, and Heffner got by Irvine on the restart.
The battle really heated up at about midway when the leaders entered traffic. On lap 12, Rhodes got by Irvine, and the next lap slid under Heffner for first. That only fired the action to the next level, and Heffner made the decisive pass five laps later, carrying his advantage to a .569 second margin of victory.
Irvine earned third, although Owen Dimm was on his bumper by race's end and equaled his career-best fourth place. Seth Schnoke was fifth.
Next the River Valley Builders PASS tour celebrates its 25th birthday with two nights of racing at Path Valley Speedway Friday and Saturday, July 21 and 22.