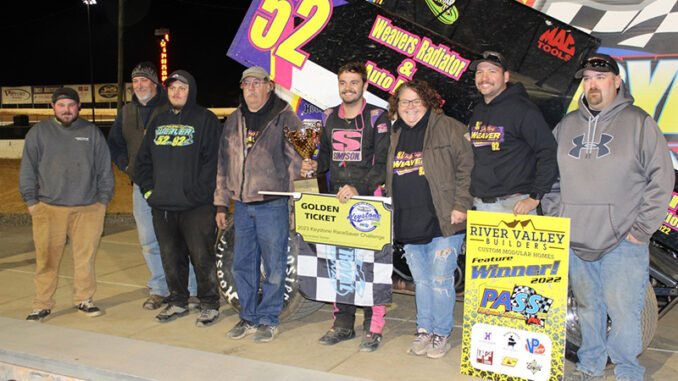 By Frank Buhrman
PORT ROYAL, Pa. (Oct. 21, 2022) – Jeff Weaver outdueled fellow front-row starter Reed Thompson for the initial lead and held the advantage for the next 15 laps to win the Founder's Cup feature for IMCA RaceSaver Sprint Cars Friday at Port Royal Speedway.
The event is held as part of the River Valley Builders Pennsylvania Sprint Series Keystone RaceSaver Challenge, giving non-qualifiers for the Keystone race itself a meaningful event, which for most is their last of the season.
Weaver, Thompson and several other front-runners provided some hot racing for fans who braved temperatures dipping into the 30s for the night's final race.
D.J. Cassler stoutly challenged Thompson for the runner-up spot, while third- and fourth-finishing Branstin Shue and Jarrett Rosencrance waged a laps-long war for those positions.
Thompson mounted challenges following restarts on the first and eighth laps but Weaver was able to hold onto the top spot and score the win.
Thompson's runner-up finish came about 4-1/2 hours after he was inducted into the Pennsylvania RaceSaver Hall of Fame for a career that has included four victories and more than 80 top 10 finishes in 200-plus PASS starts, with a lengthy record of achievement in the Laurel Highlands Sprint Series as well.
The veteran raced his first event with the series 20 years ago.