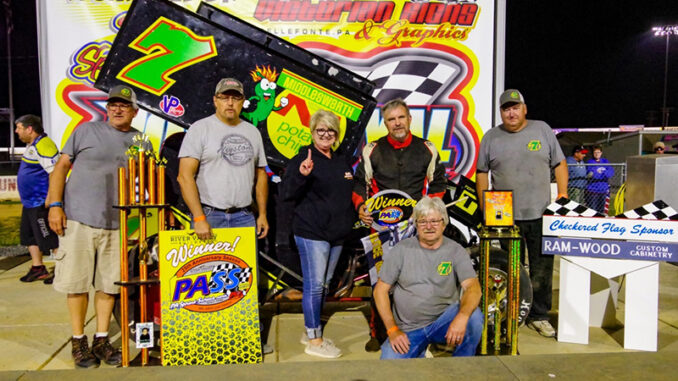 By Frank Buhrman
PORT ROYAL, Pa. (June 3, 2023) – Drew Young had been getting closer and closer. The third-year driver broke through Saturday night at Port Royal Speedway, winning the 20-lap River Valley Builders Pennsylvania Sprint Series feature and ending Logan Spahr's 2023 undefeated streak.
Young's third-place finish in the second heat race put him in the feature redraw, where he drew the outside of the front row and then led all the way, masterfully handling traffic in the non-stop race to score a 5.328 second victory over Mike Melair, who registered his second runner-up finish of 2023.
It has been an impressive climb for Young, who had never driven a race car before he brought his IMCA RaceSaver Sprint Car out for the first in August of 2020.
After four races that season, he became a regular in 2021 and earned three top-10 finishes in 20 starts. He added a pair of top-five's last season and has regularly been more competitive this year, including taking a second at Port Royal on May 6 .
Not bad for a guy running a 14-year-old Maxim chassis who declined to climb his wing for a victory celebration because, he said, he's too old.
While Young was celebrating, there was a pause in the Logan Spahr dream season, which had produced victories in the first six River Valley Builders PASS (and seven straight dating back to last October's Keystone RaceSaver Challenge).
Spahr undeniably has a lightning fast car, but he's also had some luck, especially at Port Royal, where Penns Valley Meat Market provides sponsorship. Spahr started the three features he's won at the Port this season in first, first and third place. This week, a bad pill draw for the heat starts put Spahr in eighth starting position for heat three and he was only able to advance to fifth, which put him starting in 19th for the feature.
In a race with no cautions and a lot of stout cars starting outside the top 10, that was more than even Spahr could overcome, and his streak of wins ended with a 13th.
Seth Schnoke earned his fifth top five of the season with a third, and veterans Austin Reed and Doug Dodson were fourth and fifth, respectively.
Thirty-six IMCA RaceSaver teams were on hand for the night's racing, part of an effort to raise awareness of childhood cancer, with the Nicole's Dream program. Sponsor Gilbert Hess had lost his daughter Samantha at the age of eight to leukemia in 2002. Nicole, Hess's wife, had long wanted to do a racing promotion but she died two years ago, and this was also the tribute to her dream.
Ironically, Drew Young had met Gilbert Hess just a couple of weeks ago and was reunited with him in victory lane on Saturday.
River Valley PASS will attempt to complete its first two-race weekend this Friday and Saturday, making its first stop of the hear at Big Diamond Speedway on Friday and returning to Selinsgrove Speedway Saturday.