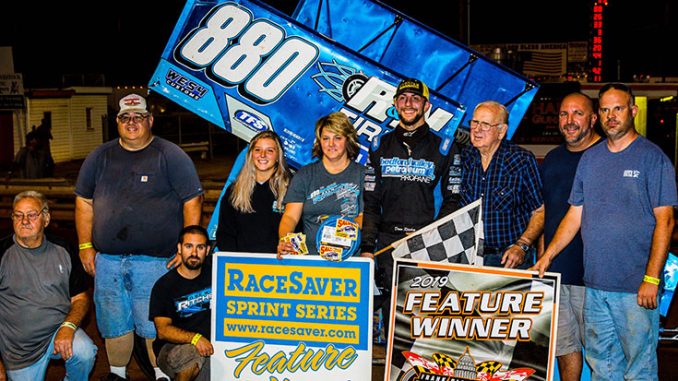 HAGERSTOWN, M.D. (Sept. 22) – Drew Ritchey won his seventh IMCA RaceSaver Sprint Car event of the season on Sunday by leading every lap of the 25-lap feature at Hagerstown Speedway.
It was his third win in the Pennsylvania Sprint Series and came in an event co-sanctioned by PASS with the Virginia Sprint Series and the Laurel Highlands Sprint Series
Hagerstown joined Bedford, Path Valley, Cumberland and Hesston on Ritchey's trophy list, with Bedford and Path Valley having fallen twice to the 24-year-old Sprinter..
Ritchey survived an early duel with Ken Duke Jr. and then a wild lap 20 restart, during which eventual runner-up Ryan Lynn and Dave Grube challenged for the top spot.
Scott Lutz reclaimed third place in the final laps, with Grube coming home fourth and Jaremi Hanson fifth. Lutz and Hanson had come through from fifth-row starting spots.
Duke, who got the nose of his car inside of Ritchey early, tangled with the leader on lap 14 and spun, but recovered and came home 11th.
Thirty drivers vied in the finale.
Feature results – 1. Drew Ritchey; 2. Ryan Lynn; 3. Scott Lutz; 4. Dave Grube; 5. Jaremi Hanson; 6. Doug Dodson; 7. Tim Stallings; 8. Christian Rumsey; 9. Dylan Proctor; 10. Zach Newlin; 11. Ken Duke Jr.; 12. Jake Waters; 13. Larry McVay; 14. Erin Statler; 15. Brad Mellott; 16. Jake Frye; 17. Daren Bolac; 18. Reed Thompson; 19. Randy Sterling; 20. Ron Aurand; 21. Bill Rice; 22. Todd Lynn; 23. Kassidy Kreitz; 24. Kyle Keen.