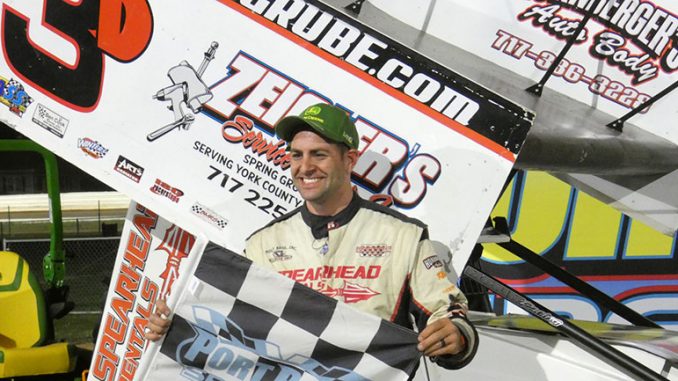 By Frank Buhrman 
PORT ROYAL, Pa. (May 1) – After an incredible three-car, 12-lap battle, Dave Grube II held on for the win Saturday night at Port Royal Speedway, taking the Pennsylvania Sprint Series 20-lap feature by a shade less than a second over Ken Duke Jr., with Kenny Heffner a career-best third and less than two tenth's of a second behind Duke.
Grube started on the pole and led the entire 20 laps, but never shed its multiple-IMCA RaceSaver Sprint Car competition, which also included Kassidy Kreitz and Justin Mills early in the race. It was when Kreitz suddenly slowed and dropped out on lap eight that the stage was set for the lengthy final fight.
On that restart, Heffner grabbed second from Duke, but six laps later the former national and PASS cham­pion retook the spot. Two laps later Heffner was back in second and on the next lap he went for the lead, with making contact with Grube on the backstretch.
That allowed Duke back into second, but even with lapped traffic becoming a factor, Grube was able to hold on for his sixth career PASS win and second at the Port, where he won his first PASS feature in 2017.
"This team needed a win," Grube said from victory lane. "It's been a couple of years since we've been in victory lane and a long time here. We've been really fast lately and we're really dedicated to running for points here."
Devin Adams of Lebanon made a late charge to take fourth and might well have been a factor in a 25-lap race. Mills was near the leaders all race and came home fifth.
With another big field of IMCA RaceSaver Sprint Cars was on hand, 44, and qualifying events were fiercely competitive. Drew Young, Reed, Mills and Grube took the heat wins. The battle between young Mills and veteran Roger Irvine in the third heat was a particular crowd-pleaser, as was Dustin Young's pass for the final transfer spot at the finish line of heat four.
This week's PASS action returns to Selinsgrove Speedway on May 8.
Feature results – 1. Dave Grube; 2. Ken Duke Jr.; 3. Kenny Heffner; 4. Devin Adams; 5. Justin Mills; 6. Garrett Bard; 7. Drew Young; 8. Erin Statler; 9. Austin Reed; 10. Dakota Schweikart; 11. Roger Irvine; 12. Jared Zionkowski; 13. Dave Schweikart; 14. Bob Garvey; 15. Dom Melair; 16. Nick Sweigart; 17. Josh Beamer; 18. Jeffrey Weaver; 19. Doug Dodson; 20. Rowdy Heffner; 21. Mike Melair; 22. Ian Detweiler; 23. Dustin Young; 24. Kruz Kepner; 25. Kassidy Kreitz; 26. Mikell McGee.