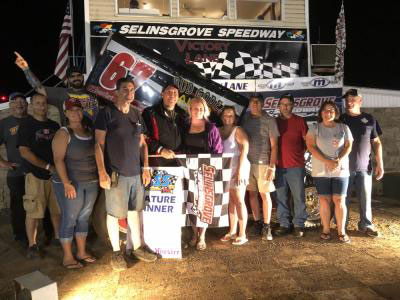 By Frank Buhrman
SELINSGROVE, Pa. (July 27) – Ken Duke Jr. capped a perfect racing weekend with a late pass for the lead and his second straight hometown victory in Saturday's 20-lap Pennsylvania Sprint Series feature at Selinsgrove Speedway.
The Selinsgrove IMCA RaceSaver Sprint Car win followed Duke's victory Friday at Clinton County Motor Speedway and was his seventh of the year in PASS competition; he also has won with the Laurel Highlands Sprint Series.
"The track didn't slick off quite as much as I thought it would for the feature," Duke said in victory lane, "so we were a little tight at the beginning, but the longer we ran, the better we got. Those guys started coming back to me a little bit, and my eyes got a little bit bigger, and we went after them, and we were lucky enough to pull it off."
"Those guys" referred to in Duke's comments were polesitter Tyler Reinhardt, Kruz Kepner and Keith Prutzman, who were all involved in the battle for the lead.
Reinhardt, making only his second start of the year, led for most of the race although he was chal­lenged early by Kepner.
The remaining three contenders battled until lap 12, when Duke got around Prutzman for second on lap 12. Once Duke got by Reinhardt he never looked back, stretching his winning margin to 4.035 seconds by the checkered flag.
Reinhardt and Prutzman held onto second and third.
Feature results – 1. Ken Duke Jr.; 2. Tyler Reinhardt; 3. Keith Prutzman; 4. Devin Adams; 5. Doug Dodson; 6. Dave Brown; 7. Cale Reigle; 8. Dylan Proctor; 9. Larry McVay; 10. Landon Price; 11. Jake Frye; 12. Dylan Shatzer; 13. Dave Wickham; 14. Mike Alleman; 15. Jimmy White; 16. Kyle Keen; 17. Ian Cumens; 18. Dave Graber; 19. Erin Statler; 20. Domenic Melair; 21. Col­ton Hoover; 22. Will Brunson; 23. Dan Leaper; 24. Wally Eshenaur; 25. Josh Spicer; 26. Kruz Kep­ner