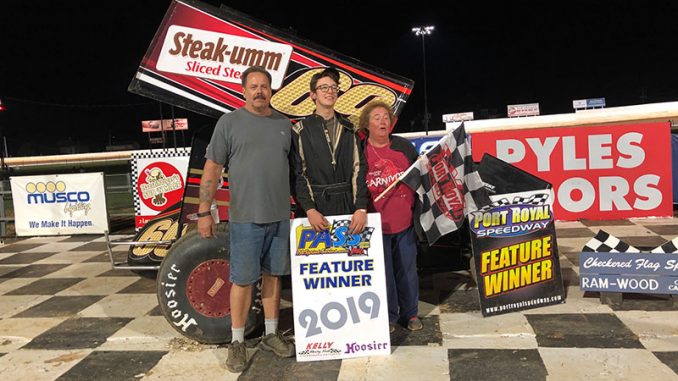 By Frank Buhrman and Stephanie Stevens Dodson
PORT ROYAL, Pa. (Aug. 24) – Seventeen-year-old Landon Price claimed his first IMCA Rac­eSaver Sprint Car victory Saturday in the Pennsylvania Sprint Series main event at Port Royal Speedway.
Price, whose previous best finish was fifth at BAPS Motor Speedway (twice) and previous best at Port Royal was 13th, took the lead from Doug Dodson and scored a dominating win.
Thirty-eight cars were entered in the Port Royal show.
Dodson was 1.5 seconds ahead of Price before a lap seven caution. On the restart, Dodson took the outside line through turns one and two and Price charged through the middle to take the lead.
Once the leaders entered traffic, Price's lower line proved beneficial, as the second through fourth place runners were running high and struggling with a choppy cushion. At the checkered flag, Price led runner-up Dodson by two-plus seconds.
Rookie Garrett Bard passed Nick Sweigart for third place on the final lap and Devin Adams fin­ished fifth.
Feature results – 1. Landon Price; 2. Doug Dodson; 3. Garrett Bard; 4. Nick Sweigart; 5. Devin Adams; 6. Drew Ritchey; 7. Ken Duke; 8. Kassidy Kreitz; 9. Zach Newlin; 10. Kenny Heffner; 11. Erin Statler; 12. Cale Reigle; 13. Dylan Proctor; 14. Nathan Gramley; 15. Kruz Kepner; 16. Scott Ellerman; 17. Dave Grube; 18. Jonathan Jones; 19. Bob Garvey; 20. Dominic Melair; 21. Jake Waters; 22. Josh Spicer; 23. Dave Wickham; 24. Jake Frye; 25. Jimmy White; 26. Colton Hoover.