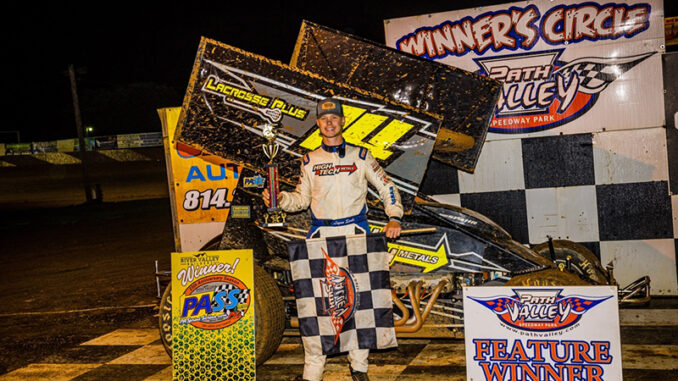 By Frank Buhrman
SPRING RUN, Pa. (May 13, 2023) – This time it was different: No Eshenaur no. 5 and no up-front starting position, but with some incredible racing in traffic and a bump-and-run on the last lap, Logan Spahr kept his 2023 River Valley Builders Pennsylvania Sprint Series record perfect with an improbable victory in the 25-lap feature at Path Valley Speedway Saturday night.
It was Spahr's fourth IMCA RaceSaver Sprint Car win in four tries this year and his fifth straight dating back to last October's Keystone RaceSaver Challenge. While the other wins came in the Wally Eshenaur's KR MacDonald/High Tech Metals/RL Snyder Electric sprinter, this one was in the Spahr family's no. 14 car, which is available when the primary car takes a race off.
A little luck didn't hurt Saturday. After coming all the way from 16th starting position to third, Spahr used a lap 17 restart to take second from fast-improving Croix Beasom. Then, when he and leader Mike Melair hit traffic after only a couple of green flag laps, the fans had the show they'd come to see.
First the traffic helped Spahr, but then it helped Melair who looked to have the race sewed up with a lap to go, only to have Matt Tebbs in the front stretch wall and Ben Miklos backwards at the start-finish line. The leaders avoided the incident, setting up a one-lap sprint to the checkered flag.
Spahr dove to the inside on the start, and the leaders headed down the backstretch side-by-side, making significant contact midway down the straight. Spahr was able to keep his momentum and took the lead for the last half lap, winning by 1.374 seconds.
The runner-up finish was a heartbreaker for Melair, who had led since lap five, when a car being lapped held up initial pace-setter Mike Alleman
Timmy Bittner hung around the top five throughout the race and came home third, ahead of Zach Rhodes and Beasom.
As incredible as it might seem, Spahr's charge of 16 positions from his starting spot to the win didn't earn him the Hard Charger Award, ironically put up by one of his sponsors, W.C. Eshenaur & Sons Energy Services. Fourth-finishing Rhodes advanced 17 positions after starting 21st to claim that prize.
The racing was delayed about an hour by nearly daylong rains, but the Path Valley track team somehow managed to work the surface into shape when just about every nearby speedway cancelled.