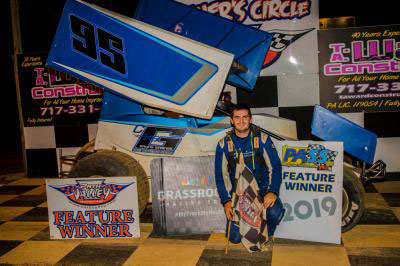 By Frank Buhrman 
SPRING RUN, Pa. (Sept. 7) – Wells Tannery is an unincorporated community in Fulton County, Pa., with a nice community park.
It's also home to race driver Garrett Bard and if Bard's fortunes continue on their current upward curve, he may become the first thing you'll know about Wells Tannery.
The 23-year-old scored his second victory in a two-month career in the Pennsylvania Sprint Se­ries Saturday night at Path Valley Speedway. It was his third IMCA RaceSaver Sprint Car win, with the other having come the previous weekend in a Laurel Highlands Sprint Series race at Bed­ford Speedway.
Bard started on the pole and led all the way for a convincing win but John Walp didn't make it easy, challenging after a lap 14 caution.
On the restart, Walp tried Bard on the inside but to no avail. On lap 20, Scott Lutz slipped into second but couldn't catch Bard.
Following Bard, Lutz and Walp at the finish were New Jersey's Larry McVay and Rob Felix.
Zach Newlin was the hard charger, moving up 10 spots from his 16th starting position.
Feature results – 1. Garrett Bard; 2. Scott Lutz; 3. John Walp; 4. Larry McVay; 5. Rob Felix; 6. Zach Newlin; 7. Jared Zionkowski; 8. Nick Sweigart; 9. Brad Mellott; 10. Randy Sterling; 11. Dylan Proctor; 12. Kenny Heffner; 13. Dave Wickham; 14. Jake Frye; 15. Derek Hauck; 16. Dome­nic Melair; 17. Donnie Hendershot; 18. Johnny Yanek; 19. Ken Duke Jr.; 20. Jim Kennedy; 21. Drew Ritchey.