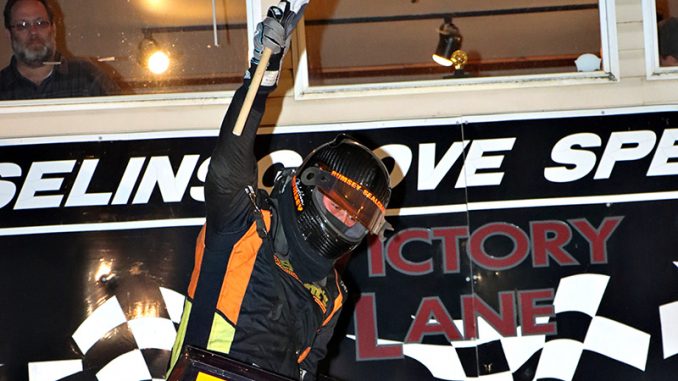 By Frank Buhrman
SELINSGROVE, Pa. (May 30) – Christian Rumsey removed "almost" from his resume Saturday night, winning the two-month-delayed 2020 season opener for the Pennsylvania Sprint Series at Selinsgrove Speedway.
Rumsey led the final two laps after advancing from 14th starting and collected the winner's trophy for the 20-lap PASS victory on a night when 51 IMCA RaceSaver Sprint Cars battled on the his­toric Snyder County half-mile track.
It was the first Sprint Car feature win for the 21-year-old from Middletown, N.Y. Last year in PASS com­petition, Rumsey was almost always near the front, with eight top-five finishes, including a pair of seconds, in just 11 starts.
"We started out pretty good tonight," he said. "My crew chief Ryan, he made a lot of great changes and kept us on track all night. We've been working hard here for two long years. We had a good year last year, super close to winning, but we finally pulled it off."
Rumsey was the third leader in a race that saw contender after contender fall by the wayside. He'd moved into second before Doug Dodson fell out following a restart with four laps left.
Rumsey held off Landon Price and claimed the win, with Peter Dance, running third, losing a tire and stopping at the entrance to the front straight, costing the Connecticut traveler a strong finish. His misfortune moved PASS veteran Dave Graber up to third at the finish.
Kassidy Kreitz advanced from 11th starting to fourth and Devon Adams came from 18th to fifth.
Feature results – 1. Christian Rumsey; 2. Landon Price; 3. Dave Graber; 4. Kassidy Kreitz; 5. Devin Adams; 6. Josh Spicer; 7. Jacob Gomola; 8. Johnny Scarborough; 9. Chase Metheney; 10. Larry McVay; 11. Cruz Kepner; 12. Erin Statler; 13. Cassandra Minium; 14. Robert Garvey; 15. Peter Dance; 16. Doug Dodson; 17. Jared Zionkowski; 18. Kyle Colwell; 19. Kyle Keen; 20. Nick Sweigart; 21. Dave Grube; 22. Marie McVay; 23. Garrett Bard; 24. Fred Arnold; 25. Ken Duke Jr.; 26. Jaremi Hanson.