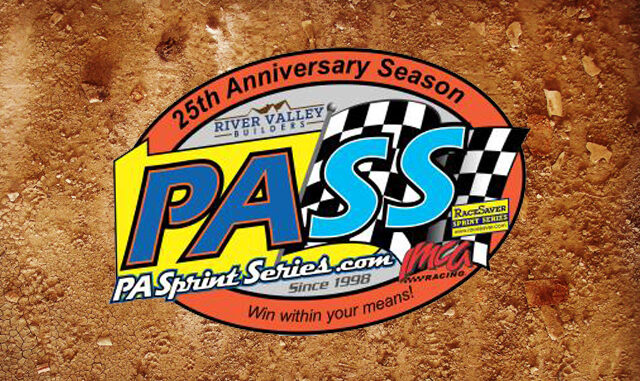 By Frank Buhrman
SELINSGROVE, Pa. (May 18, 2023) – In 25 years of River Valley Builders Pennsylvania Sprint Series competition, no driver has ever won five consecutive feature races.
Logan Spahr of Lewisberry will go for that record Saturday night, May 20 at Selinsgrove Speedway.
Actually, the driver of the Eshenaur Racing no. 5 KR MacDonald/High Tech Metals/RL Snyder Electric Sprint Car has already won five straight, but that streak extends back to the final race of 2022, the Keystone RaceSaver Challenge. It's the 2023 streak that sets the record.
Last week at Path Valley Speedway, Spahr won his fourth in a row this year, a feat accomplished by only one other driver in PASS history: Logan Wagner in 2011.
Several accomplished PASS competitors have won three straight, including Garrett Bard, Tyler Reeser, Mark Watkins, Craig Robinson, Ritchie Fitz, Judi Bates, Vince Snyder and Joe Davis. Only Spahr and Wagner have won four straight.
A strong field of IMCA RaceSaver Sprint Car challengers will do their best to deny Spahr the record Saturday, including Seth Schnoke, Timmy Bittner, Zach Rhodes and Drew Young, who make up the rest of the top five in current PASS points.
Also on hand will be hometown racer Ken Duke, whose five Selinsgrove victories lead all active PASS drivers.
The River Valley Builders PASS tour will headline this Saturday's program that also features limited late models and a special, increased purse "Roadrunner Challenge" for that stock car class. Gates will open at 5 p.m. with racing set to start at 7 p.m.
Adult general admission is $15 and pit admission is $30.