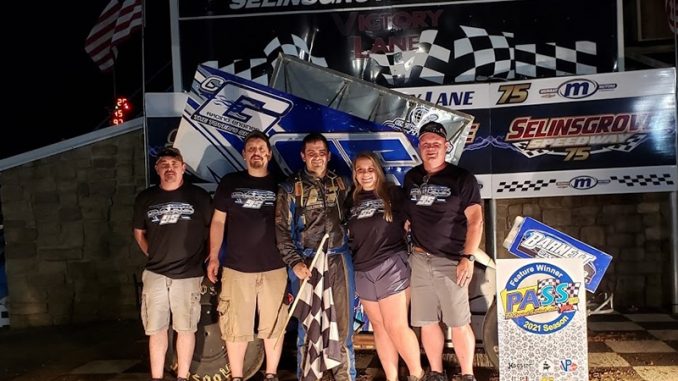 By Frank Buhrman and Stephanie Dodson 
SELINSGROVE, Pa. (May 22) – If the story of 2020 in the Pennsylvania Sprint Series was the dominance of Garrett Bard, the story in early 2021 has been the lack of that dominance.
But Saturday night at Selinsgrove Speedway, the current story line may have changed.
Bard, who won IMCA RaceSaver Sprint Car national and PASS championships last year, grabbed the lead from Kenny Heffner on the feature's final restart and collected his first PASS win of 2021 (he has won in other RaceSaver series).
Heffner, looking for his first career PASS win, led most of the race for the second time this season and settled for a career-best second place finish. He battled Bard for nearly a full circuit after the lap 18 restart and was still fighting for the lead at the checkered flag.
Hometown favorite Ken Duke, the 2019 national and PASS champion, charged from 10th starting to finish third, followed by Austin Reed and George Riden.
Heffner took the early lead after he and polesitter John Walp bumped coming off turn two on the first lap. Reed got past Walp for second after the incident.
Heffner was flying in front of the field before a lap 10 caution. The final yellow, when Austin Graby slowed on lap 18, gave Bard another shot, and the inside line worked just well enough for him to complete the pass after an exciting lap of side-by-side dueling.
The win was Bard's fifth at Selinsgrove, and for 2021 he is the ninth different winner in nine PASS features.
Next Saturday, PASS returns to Port Royal Speedway for Night One of the Bob Weikert Memorial Weekend. Racing is scheduled to begin at 7 p.m.
Feature results – 1. Garrett Bard; 2. Kenny Heffner; 3. Ken Duke; 4. Austin Reed; 5. George Riden; 6. John Walp; 7. Justin Mills; 8. Buddy Schweibinz; 9. Doug Dodson; 10. Erin Statler; 11. Kassidy Kreitz; 12. Devin Adams; 13. Drew Young; 14. Jared Zionkowski; 15. Kruz Kepner; 16. Dave Graber; 17. Rowdy Heffner; 18. Mike Alleman; 19. Austin Graby; 20. Dakota Schweikert; 21. Mike Melair; 22. Paul Moyer; 23. Will Brunson; 24. Jake Waters; 25. Larry McVay; 26. Dustin Young.