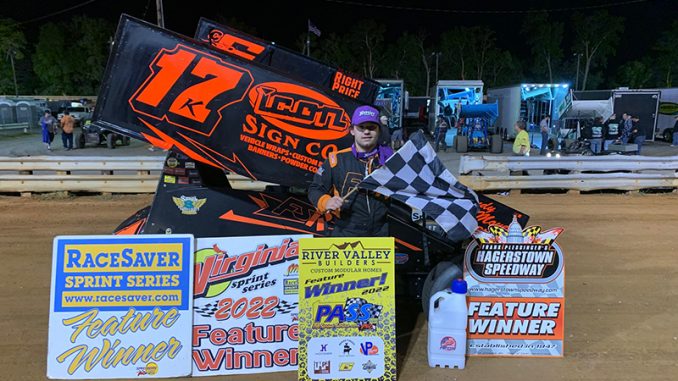 HAGERSTOWN, Md. (June 18, 2022) – Stevie Kenawell stared the weekend winning with the Laurel Highlands Sprint Series at Dog Hollow Speedway and then followed it up at the Annual Dad's Night Out weekend at Hagerstown Speedway by wiring the feature from pole to checkers. 
The Hagerstown event has been a highlight since the Laurel Highlands Sprint Series, PASS and Virginia Sprint Series got together at Hagerstown a few years ago for the once a year three series race.
Kenawell and Dylan Shatzer paced the feature field to green and Kenawell took off with Shatzer in tow. The whole field was dicing for positions in all grooves behind them. Quickly it became a race for second as Kenawell really had the family-owned sprinter dialed in, just a straight arrow lap after lap as Austin Reed made his way to second with Shatzer still third.
Even as racers made huge gains headed toward the front spots, the race lap after lap was Kenawell's in hand. After a couple re-starts he just stayed in the zone to keep second place at a distance as he flashed under the waving checkered flag first.
FEATURE RESULTS – 1. Stevie Kenawell; 2. Austin Reed; 3. Dylan Shatzer; 4. Josh Spicer; 5. Donny Hendershot; 6. Mike Melair; 7. Doug Dotson; 8. Scott Lutz; 9. Garrett Bard; 10. Kruz Kepner; 11. Johnny Smith; 12. Dylan Smith; 13. Adrian Shaffer; 14. Logan Jones; 15. Timmy Bitner; 16. Joe Leavell; 17. Jason Roush; 18. Jimmy White; 19. Dominic Melair; 20. Owen Dimm; 21. John Scarborough; 22. Jerald Harris; 23. Brad Mellot; 24. Tylor Chochran.