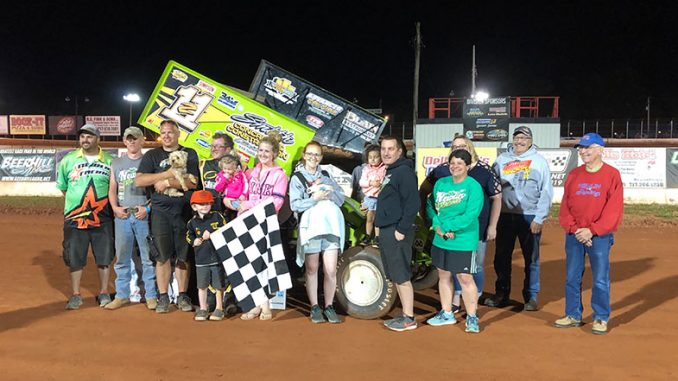 YORK HAVEN, Pa. (June 22) – Defending champion Zach Newlin held off a determined last-lap effort by rookie Jake Frye and claimed the victory in Saturday's Pennsylvania Sprint Series fea­ture race at BAPS Motor Speedway.
The IMCA RaceSaver Sprint Car win was his third this season with PASS, following seven in 2018, and his second at BAPS.
Newlin led the caution-free 20-lapper all the way but had to edge fellow front-row starter Dominic Melair to the front before withstanding the efforts of teenager Frye, running the most impressive start of his young PASS career.
Frye, who started fourth, passed Melair for second on lap five and then closed on the veteran Newlin in traffic over the last half of the race before trying a slide job going into the third turn on the final lap.
Newlin's high-line momentum carried him out of the fourth turn in front, however, and Frye fin­ished on his bumper.
Melair also posted his best finish in a brief PASS career, holding on for third, with Cale Reigle fourth and another teenager, Landon Price matching his career best PASS finish in fifth.
Next Saturday, the PASS sprinters return to Path Valley Speedway and the fast quarter-mile. On Sunday, PASS is at Selinsgrove Speedway for a Pennsylvania Sprint Speedweek show.
Feature results – 1. Zach Newlin; 2. Jake Frye; 3. Dominic Melair; 4. Cale Reigle; 5. Landon Price; 6. Keith Prutzman; 7. Devin Adams; 8. Kyle Ganoe; 9. Dave Grube II; 10. Doug Dodson; 11. Donnie Hendershot; 12. John Walp; 13. Kassidy Kreitz; 14. Nick Sweigart; 15. Jaremi Han­son; 16. Kirsten Hess; 17. Erin Statler; 18. Rick Romig; 19. Kyle Keen.