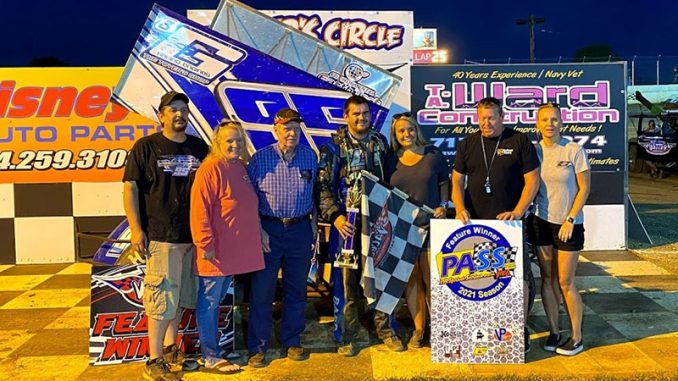 By Frank Buhrman
SPRING RUN, Pa. (June 26) – It's not that Garrett Bard doesn't race well at Path Valley Speedway. In his last seven starts there, he had finished second four times, third once and fourth once.
But his only previous win in a full-sized sprint car had come in September of 2019, and since then he had won 14 Pennsylvania Sprint Series features, plus non-PASS victories, at other tracks.
That picture got brighter Saturday night when Bard emerged from a furious three-way battle to win the 25-lap IMCA RaceSaver Sprint Car feature at the quarter-mile Spring Run bullring.
Bard was swapping the lead in traffic with hard-luck Kenny Heffner, with Jared Zionkowski looking for an opening, when Heffner dove to the inside on lap 23 and spun. Freed of traffic after the ensuing caution, Bard held off Zionkowski for the win, his second of the season.
Zionkowski held on for the runner-up finish, .895 seconds behind Bard but ahead of Steve Kenawell, prior Path Valley winner Mikell McGee and John Walp.
The PASS tour returns to Path Valley this Saturday for the Austin Gelwicks Memorial.
Feature results – 1. Garrett Bard; 2. Jared Zionkowski; 3. Steve Kenawell; 4. Mikell McGee; 5. John Walp; 6. Ken Duke; 7. Domenic Melair; 8. Branstin Shue; 9. Mike Alleman; 10. Will Brunson; 11. Zach Rhodes; 12. Mike Melair; 13. Alyssa Rowe; 14. Dave Wickham; 15. Fred Arnold; 16. Kenny Heffner; 17. Tyler Snook; 18. Andrew Boyer; 19. Cody Hackenberry; 20. Kruz Kepner.