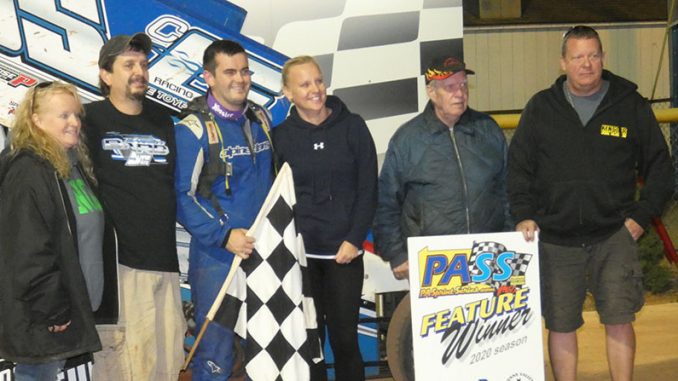 By Frank Buhrman 
ABBOTTSTOWN, Pa. (Sept. 25) – Garrett Bard made it two-for-two at Lincoln Speedway Friday with a convincing Pennsylvania Sprint Series feature win.
Bard brushed aside a bad heat race starting draw and won that event, then moved from his fourth starting position to second on the opening lap and passed early leader Ken Duke Jr. following a lap four restart to take control of the feature.
He held off a charging Devin Adams at the end of a race that highlighted several of the IMCA Rac­eSaver Sprint Car series "young lions."
Bard had led all 20 laps for a July 4 win at Lincoln, countering Doug Dodson's bid for the lead.
This time, while Adams closed the gap on the leader in the final couple of laps, Bard's mastery of traffic kept his lead safe. Duke ended up third, ahead of recent high school graduate Justin Mills and Derek Hauck.
Feature results – 1. Garrett Bard; 2. Devin Adams; 3. Ken Duke Jr.; 4. Justin Mills; 5. Derek Hauck; 6. Dave Grube II; 7. Landon Price; 8. Dylan Shatzer; 9. Doug Dodson; 10. Dylan Smith; 11. Jaremi Hanson; 12. Austin Graby; 13. Domenic Melair; 14. Daryl Stimeling; 15. Scott Lutz; 16. Johnny Scarborough; 17. Kruz Kepner; 18. Branstin Shue; 19. Dave Graber; 20. Dustin Young; 21. Drew Boyer; 22. Erin Statler; 23. Jake Frye; 24. Dave Wickham