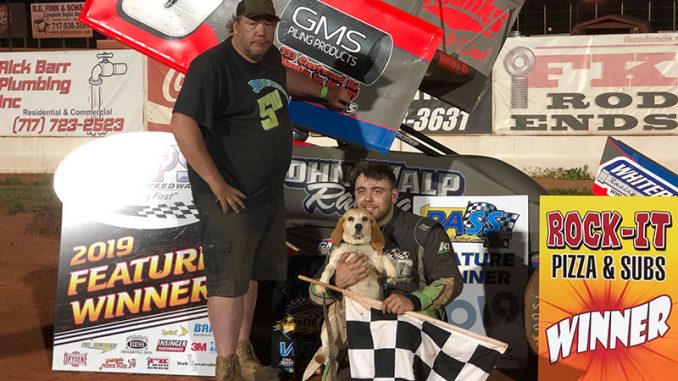 YORK HAVEN, Pa. (May 18) – Second chances don't always happen, so when John Walp got one Saturday night at BAPS Motor Speedway, he took full advantage, leading from start to finish and winning the 20-lap PA Sprint Series feature. 
It was Walp's first feature win.
Walp had spun out while leading Friday night's IMCA RaceSaver Sprint Car feature at Clinton County Speedway, so getting another chance at a front-row starting spot was too good to pass up.
Walp grabbed the lead from fellow front-row starter Jaremi Hanson and held Hanson at bay to score a 2.319-second victory.
"The car was awesome," an emotional Walp said in victory lane. "The track held moisture all night. We were spot on. I couldn't ask for anything better."
BAPS was a likely place for Walp's breakthrough in his no. 5 Sprinter. His best previous PASS finish was a runner-up showing at this track last August, and he finished third in the feature on April 20
Hanson stalked Walp throughout the event but never able to complete a challenge. The runner-up finish was Hanson's best so far this season. Larry McVey came home third.
Feature results – 1. John Walp; 2. Jaremi Hanson; 3. Larry McVey; 4. Doug Dodson; 5. Zach Newlin; 6. Ken Duke Jr.; 7. Keith Prutzman; 8. Cale Reigle; 9. Donnie Hendershot; 10. Jared Zionkow­ski; 11. Austin Burke; 12. Billy Ney; 13. Samantha Lieberman; 14. Nick Sweigart; 15. Kyle Ganoe; 16. Kyle Keen; 17. Jake Frye; 18. Ian Cumens; 19. Kirsten Hess; 20. Erin Statler; 21. John Fiore; 22. Johnny Scarborough; 23. Davin Adams; 24. Jay Krout.