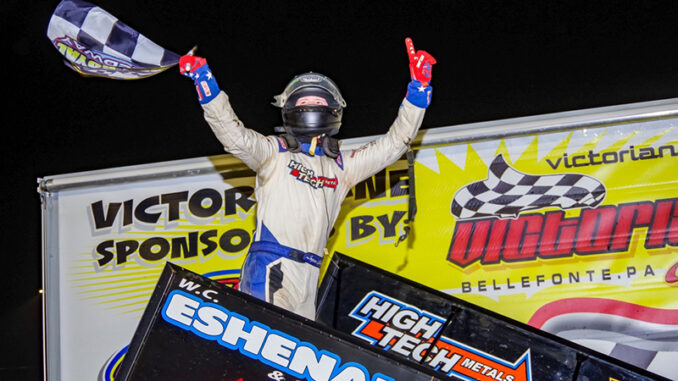 By Frank Buhrman
PORT ROYAL, Pa. (May 6, 2023) – The more things change, the more they stay the same.
The change was a River Valley Builders Pennsylvania Sprint Series feature race run Saturday night at Port Royal Speedway without a rain cancellation for the first time since the middle of last month.
The consistency was Logan Spahr, who remained undefeated on the season by taking his third straight IMCA RaceSaver Sprint Car win, with a victory margin of 2.595 seconds over runner-up Drew Young.
It was actually win number four in a row for Spahr, who won 2022's season-ending Keystone RaceSaver Challenge, and five of PASS's last six races. It was his second 2023 win at the Port and third of a three-year career in the KR MacDonald/High Tech Metals/RL Snyder Electric no. 5 owned by Wally Eshenaur.
He made it look easy, taking advantage of drawing the pole starting slot and leading all 20 feature laps.
Young, who started alongside Spahr on the front row, dogged him all the way but had to fight off a spirited challenge by Christian Rumsey in the closing laps. Veteran Roger Irvine came home fourth, ahead of Kenny Heffner.
Twenty-three of the race's 26 starters made it to the finish. Those who didn't were collected in the evening's worst incident, which took place on the feature's second lap. Seventh-running Dustin Young got sideways in turns one and two, collecting Kenny Heffner, but the contact actually straightened Young out. Mayhem broke out in the back-up behind them, though, and both Josh Spicer and Austin Reed joined Young in the pits, done for the night.
Dodson, complete with a bent frame and heavily damaged front end, rejoined the field in 23rd position. The only other caution flew on lap 14, when Dodson lost his front bumper, but that didn't end the night for the no. 20, either.
In the two long green-flag runs before and after that final yellow, Spahr handled lapped traffic with seeming ease and maintained a healthy lead all the way to his now-familiar visit to victory lane.