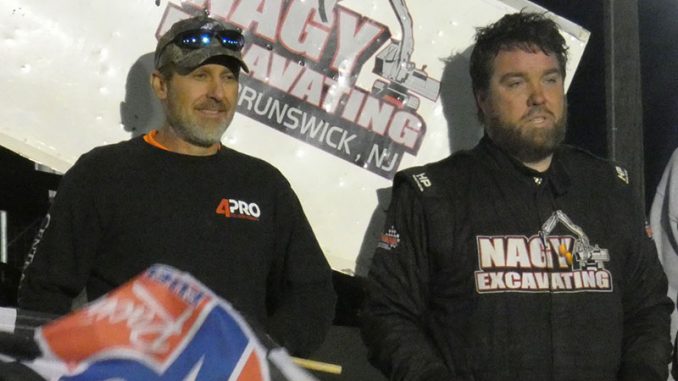 By Frank Buhrman
SWEDESBORO, N.J. (March 26) – Veteran Kevin Nagy started on the pole Friday night at Bridgeport Motorsports Park and held off multiple challenges and challengers to lead all 25 laps and score the feature win on Day 1 of the track's Kingdom of Speed Weekend.
The IMCA RaceSaver Sprint Car event was co-sanctioned by the Mid-Atlantic Sprint Series, which hosted, and the Pennsylvania Sprint Series. Entries numbered 37.
Nagy first fought off outside front-row starter Phil Meisner, then dealt with challenges from Rick Stief. Finally, Dave Brown took over second and mounted attacks on the race's last two restarts, narrowly failing to displace the winner.
At the checkers, Nagy led Brown across the line by 1.736 seconds, with Dom Melair finishing 1.205 seconds farther back in third, a position he held despite a broken front wing.
Feature results – 1. Kevin Nagy; 2. Dave Brown; 3. Dom Melair; 4. Rory Janney; 5. Bryant Davis; 6. Larry McVay; 7. Zack Bealer; 8. Cody West; 9. John Brennfleck; 10. Eddie Wagner; 11. Rich Janney; 12. Josh Bricker; 13. Rick Stief; 14. Matthew Swift; 15. Scott Frack; 16. Zach Berghof; 17. Ryan Stillwagon; 18. Kristina Pratt; 19. Craig Pellagrini; 20. Darren Cox; 21. Joe Kay; 22. Phil Meisner; 23. Justin Clark.