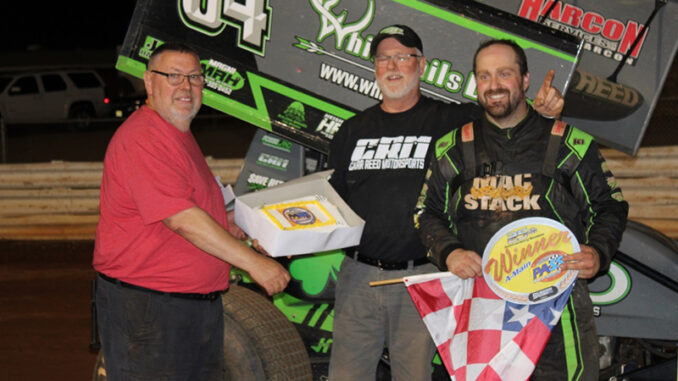 By Frank Buhrman
SELINSGROVE, Pa. (July 8, 2023) – Austin Reed squeezed past Zach Rhodes on the outside after a brief but furious battle for the lead and went on to win the 20-lap River Valley Builders Pennsylvania Sprint Series feature Saturday night at Selinsgrove Speedway.
It was the second straight win at the Snyder County oval for the veteran from Etters, who finished second in PASS points last season, and it came on a night that saw misfortune strike several front-runners, while those with better luck entertained the fans with some great on-track action.
Reed claimed a victory margin of 1.77 seconds at the checkers.
Rhodes, who drew the pole position after winning his heat race, led the first 17 laps and nearly scored his first career PASS win – he won an IMCA RaceSaver feature earlier this year with the Virginia Sprint Series at Winchester, Va.
He hung on for second place ahead of a hard-charging Doug Dodson, who took third from Kruz Kepner on the final lap after starting ninth. Thirteenth starting Ken Duke, another impressive mover, completed the top five.
Melair was the night's W.C. Eshenaur & Sons Hard Charger, moving up 11 positions after starting 19th. Hard-luck mentions went to Timmy Bittner and Kenny Heffner, both of whom were running in the top five early before facing misfortune. Bittner stopped on the track on the fourth lap (while running fourth), and during that caution, it was noticed that Heffner's front wing had broken. After two laps of trying to run with that handicap, he called it a night.
But the worst fortune of all was that of seven-time 2023 winner and points leader Logan Spahr, who experienced a problem in his heat race and rode the outside guard-rain through the third turn. The resulting frame damage ended his night, and when the sprinters next hit the track, Spahr was already out of uniform and in the grandstand, receiving hugs of consolation from family and friends.
The feature's most serious incident took place on lap 14, when Chad Phillips, Colton Hendershot, and Jason Roush tangled in turn three. The red flag was thrown when it was thought Phillips had a fuel leak, but that turned out not to be the case. All cars were done, however.
Rhodes and Reed began their serious duel on the ensuing restart, and it looked like Rhodes would triumph, but Mike Koehler stopped on the backstretch a lap later to slow the field again, and that restart led to four laps of side-by-side fighting for the lead before Reed's eventual victory pass.
It was the seventh career PASS win for the former 358 sprint driver, and the third at Selinsgrove, tying him with Spahr for second place behind Duke for career wins there.
The Jim "Slippery" Snyder award for fastest time during the heat races was won by Rhodes. That award was created by Snyder's son Brian in memory of the longtime Selinsgrove push-truck driver. Rookie Ben Miklos earned the VP Racing "Race-Ready Award" for the worst pill draw for heat race starting positions.
Action was briefly halted during the preliminaries when Robyn Scarborough, wife of PASS competitor John Scarborough, suffered a heart attack in the pits. Fast medical attention got her to an area hospital and she is expected to make a complete recovery.
This Saturday, July 15, PASS returns to Port Royal Speedway.