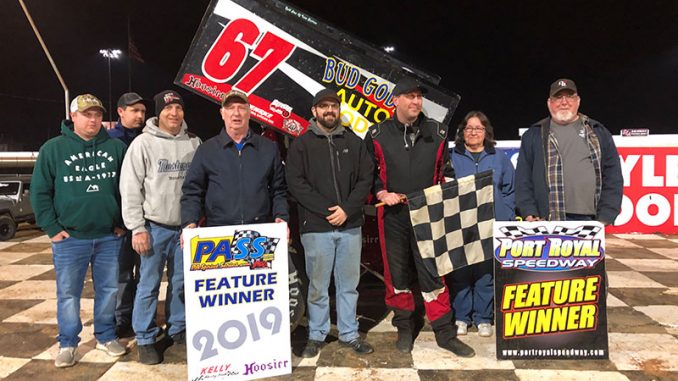 PORT ROYAL, Pa. (April 6) – Ken Duke Jr. grabbed the lead from Nathan Gramley in turn two on lap 12 and went on to win Saturday's 20-lap Pennsylvania Sprint Series feature at Port Royal Speedway. 
It was Duke's second straight IMCA RaceSaver Sprint Series victory for 2019.
The largest field in Central Pennsylvania Sprint Car racing so far this year, 43 cars, entered the race, and 25 of the 26 starters completed the distance. Entries came from as far away as Vermont and North Carolina.
Late-charging Johnathan Jones got past Gramley with two laps to go and took second place. Gramley held on for third, followed by Nick Sweigart and Ryan Lynn.
From his fourth starting position, Duke has quickly assumed the runner-up spot behind Gramley, with Dabrosky, Lynn and Scarborough giving chase. Traffic gave Duke his chance on lap 12 and the 2016 PASS champ made the best of it. At one point his lead stretched to more than three seconds before Jones, who moved from sixth to second over the last five laps, narrowed the final margin.
Feature results – 1. Ken Duke Jr.; 2. Jonathan Jones; 3. Nathan Gramley; 4. Nick Sweigart; 5. Ryan Lynn; 6. Greg Dabrosky; 7. John Scarborough; 8. Zach Newlin; 9. Dave Grube; 10. Cale Riegle; 11. Kyle Ganoe; 12. Drew Ritchey; 13. Robert Garvey; 14. Jaremi Hanson; 15. Jake Waters; 16. Devin Adams; 17. Tim Stallings; 18. Josh Dressley; 19. Scott Lutz; 20. Domenic Melair; 21. Jay Krout; 22. Samantha Lieberman; 23. Scott Ellerman; 24. Dave Wickham; 25. Michael Wenrick; 26. Doug Dodson.