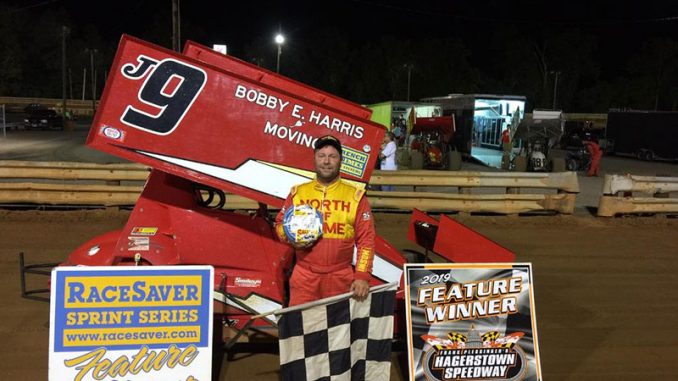 By Jim Haines
HAGERSTOWN, Md. (June 15) – His return visit to Hagerstown Speedway ended with Jerald Harris in victory lane.
Eighteenth in the main event at last month's East Coast Nationals, Harris showed he had a good handle on the setup he needed on a super-fast sticky track as he went up high on the start and streaked to the Saturday IMCA RaceSaver Sprint Car win.
David Grube II and Drew Ritchey were second and third, respectively, in the co-sanctioned Laurel Highlands Sprint Series, Pennsylvania Sprint Series and Virginia Sprint Series event.
Erin Statler and Harris paced the field to the initial green with Harris staying high and taking the lead with Statler right on his tail and Grube in tow.
Ken Duke, Zack Newlin and Ritchey worked their way up as Grube got by Statler, but Harris stayed straight smooth and fast as traffic came into play.
After a red for a car getting in to the guardrail it was back at it for a run to the checkers. Harris took off and Grube kept him in sight as Duke, Newlin and Ritchey battled for third in heavy traffic.
Harris made his way through traffic, chased by Grube and Ritchey. Duke and Newlin completed the top five.
Feature results – 1. Jerald Harris; 2. Dave Grube II; 3. Drew Ritchey; 4. Ken Duke; 5. Zach Newlin; 6. Erin Statler; 7. Jake Frye; 8. Scott Lutz; 9. Jaremi Hanson; 10. Kyle Ganoe; 11. Ryan Lynn; 12. Ron Aurand; 13. Cale Reigle; 14. Kyle Keen; 15. Justin Clark; 16. Brad Mellott; 17. Mke Leraas; 18. Samanatha Lieberman; 19. Reed Thompson; 20. Michael Alleman; 21. Bill Rice; 22. Chris Ware; 23. Stevie Kenawell; 24. Scott Ellerman; 25. Tony Harris; 26. Donny Hendershot; 27. Dylan Proctor; 28. Daren Bolac; 29. Kurt Knepper