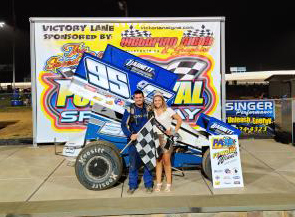 By Frank Buhrman 
PORT ROYAL, Pa. (July 18) – Garrett Bard notched Pennsylvania Sprint Series win number four of the season at Port Royal Speedway Saturday, coming from seventh starting spot – the biggest advance to a win since the season opener May 30 – and holding off a determined veteran Nathan Gramley at the end.
With defending IMCA RaceSaver Sprint Car national and PASS champion Ken Duke Jr. and Gram­ley, both former Port Royal champions, on the front row, it might have seemed that things would be settled there, but Bard and several other challengers had other ideas.
Gramley built a nice little lead in the early laps, but a caution bunched the field again, looking to improve on three straight runner-up finishes.
Of the group behind the pair, it was Bard who made the move, passing both Duke and Gramley over the next five laps.
The veteran Gramley kept Bard in his sights, though, and when a close brush with the outside wall caused the leader to drop to a lower line, Gramley tried to take advantage. Bard, who just celebrated his first anniversary as a PASS driver the previous weekend, took the win by .719 se­conds over Gramley, who in turn held off Doug Dodson by a scant .124 seconds.
Thirty-five cars vied at Port Royal.
Feature results – 1. Garrett Bard; 2. Nathan Gramley; 3. Doug Dodson; 4. Ken Duke Jr.; 5. Nick Sweigart; 6. Kassidy Kreitz; 7. Erin Statler; 8. Devin Adams; 9. Johnny Scarborough; 10. Jared Zionkowski; 11. Jaremi Hanson; 12. Kyle Keen; 13. Derek Hauck; 14. Landon Price; 15. Jake Waters; 16. Christian Rumsey; 17. Fred Arnold; 18. Ian Detwiler; 19. Jason Roush; 20. John Walp; 21. Jake Frye; 22. Mike Alleman; 23. Justin Mills; 24. Dominic Melair; 25. Dustin Young; 26. Kenny Heffner.