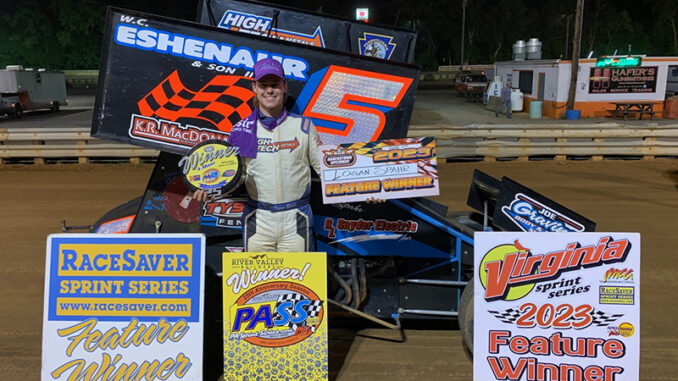 HAGERSTOWN, Md. (June 17, 2023) – Already a six-time winner in Pennsylvania Sprint Series action this season, Logan Spahr became a first-time winner in two other IMCA RaceSaver series Saturday night.
Spahr collected the checkers at Hagerstown Speedway in the event co-sanctioned by the Virginia Sprint Series, Laurel Highlands Sprint Series and PASS.
The annual meeting of the three series was another great event with 43 cars checking in.
Michael Alleman and Ken Duke paced the field to green with Alleman out first and right away joined by Austin Reed. Duke and the front group swapped the lead every lap.
Alleman was fast on the bottom while Reed stayed to the top. Spahr showed up and moved to second as Reed started to fade with mechanical problems but Duke was right there to take up the charge.
Spahr found a new line and moved to the front, leaving Alleman and Duke to fight it out for second. After a quick caution for a spinner it was back at it but nobody would catch Spahr as he was smooth to the checkered flag with Duke close in second and Alleman third.
Timmy Bittner and Mike Melair completed the top five.