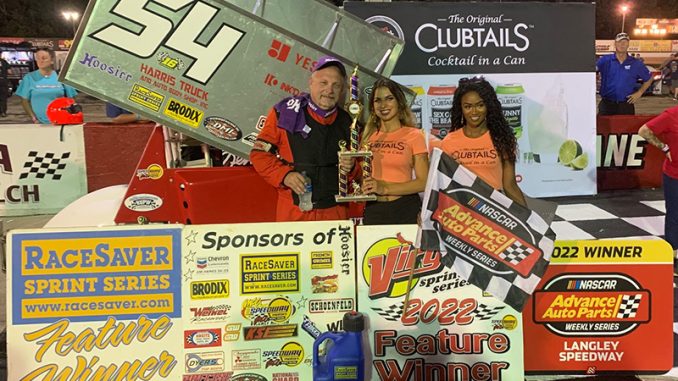 By Jim Haines
HAMPTON, Va. (July 2, 2022) – The annual Fourth of July Weekend event for the Virginia Sprint Series was a show case for patience as Matt Mullins led early, gave it up to save his tires and then blasted back by with a few laps to go for the win Saturday at Langley Speedway. 
Chris Humblet and Mullins had paced the IMCA RaceSaver Sprint Car field to green with Mullins out first and Humblet and Jerald Harris in tow.
Mullins was smooth out front as Harris got to second and Billy Hubbard followed.
Hubbard made it to second and took off like a jet after Mullins, who was catching the back of the pack as the pavement laps really clicked off. Mullins stayed smooth and straight as Hubbard showed speed but also tire smoke and at lap 15 he found the lead as Mullins stayed on plan.
Hubbard was on it lap after lap as Mullins kept him in range and as the tires were going away he pounced. Mullins really closed in with four laps to go and went to the outside with two to go and flashed by and back to the lead.
Nobody could catch Mullins as he stayed strong as he flashed under the waving checkered flag. Hubbard was second and Harris third.