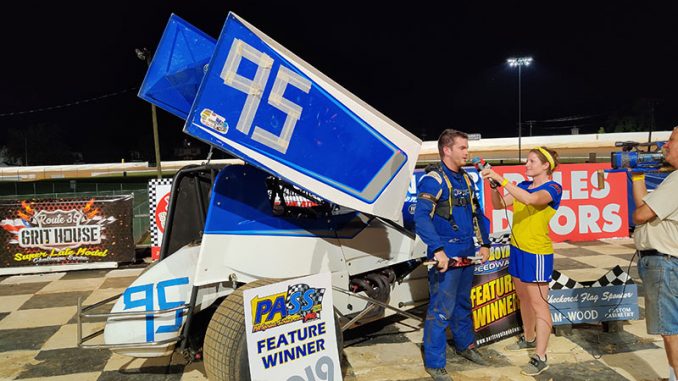 By Frank Buhrman
PORT ROYAL, Pa. (July 20) – Garrett Bard wasted no time in showing his ability in a full-sized Sprint Car, coming from ninth starting spot to second in his heat race and then winning Satur­day's 20-lap Pennsylvania Sprint Series feature at Port Royal Speedway.
It was only his fourth time out in a full-sized Sprinter, his second in an IMCA RaceSaver Sprint Car and his first at Port Royal. The winner's 305 career has been so brief that his no. 95 sprinter still has its numbers applied with tape, but fans and fellow competitors certainly will remember them now.
Bard had drawn the outside front row start but polesitter Devin Adams, who had picked up his first ca­reer win the last time PASS was at Port Royal, grabbed the early lead with last week's Path Valley winner Drew Ritchey moving into second.
Running high in turns one and two and low in three and four, Adams worked his way smoothly through traffic in the feature. Bard caught Ritchey to take second on lap 13 and begin reeling in the leader.
On lap 18, Bard made what proved to be the race-winning move.
Adams held on for the runner-up finish, with Jonathan Jones taking third from Ritchey late in the going. Nick Sweigart completied the top five.
Another huge field was on hand for Saturday's race with 39 RaceSaver teams signing in. The top mover in the feature was Landon Price, who came from 23rd to finish 13th.
Feature results – 1. Garrett Bard; 2. Devin Adams; 3. Jonathan Jones; 4. Drew Ritchey; 5. Nick Sweigart; 6. Doug Dodson; 7. Dave Grube; 8. Kassidy Kreitz; 9. Ken Duke; 10. Keith Prutzman; 11. John Walp; 12. Cale Riegle; 13. Landon Price; 14. Zach Newlin; 15. Erin Statler; 16. Kyle Keen; 17. Jake Waters; 18. Larry McVey; 19. Jake Frye; 20. Kenny Heffner; 21. Fred Arnold; 22. Jaremi Hanson; 23. Dave Graber; 24. Josh Spicer; 25. Cruz Kepner; 26. Christian Rumsey.