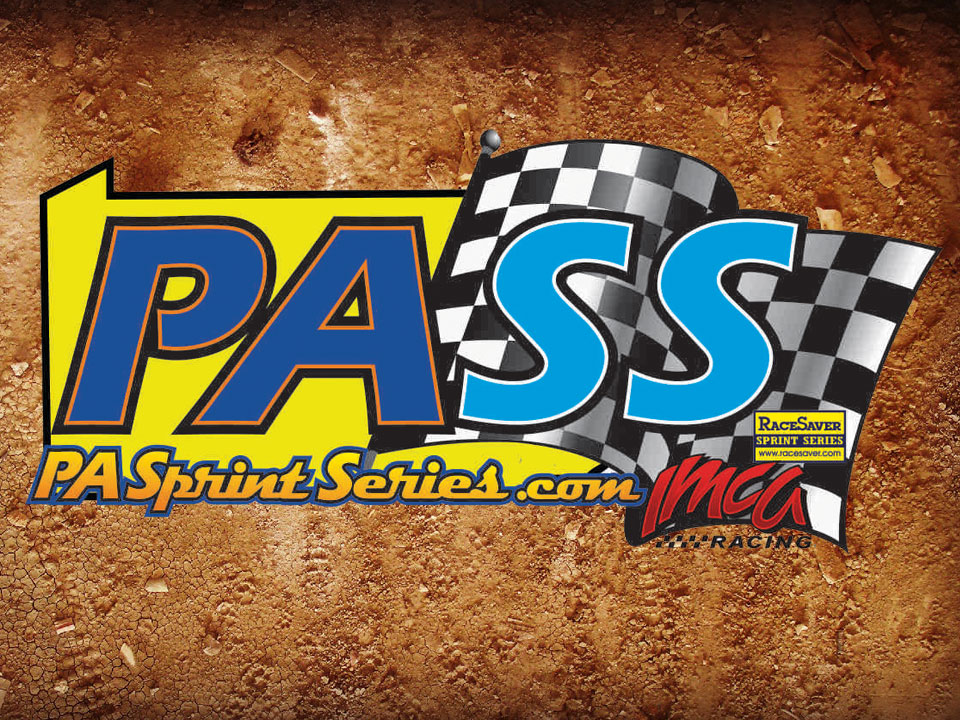 By Frank Buhrman
POTTSVILLE, Pa. – The Pennsylvania Sprint Series will run a rare tripleheader this weekend, with three races on the schedule, including stops at the series' oldest track and its newest.
On Friday night, PASS will join the Mid-Atlantic Sprint Series for a co-sanctioned event at Big Diamond Speedway. On Saturday, the IMCA RaceSaver Sprinters will visit the quarter-mile Path Valley Speedway bullring, now in its 22nd season of hosting PASS racing. Then on Sunday, the new Bloomsburg Fair Raceway will host the PASS and MASS sprinters for the first time ever.
At Big Diamond, pit gates will open at 5 p.m. and grandstands at 5:30, with warm-ups starting at 7:15 and racing at 7:45. Adult admission is $22 ($20 for seniors; kids under 16 and active duty military with ID free). Pit admission is $40 ($30 for PASS and MASS members).
This is the first PASS race at Big Diamond since 2015 and it will produce a new winner for the series, since no previous PASS winner is still active in RaceSaver sprints.
Path Valley will be running its fourth PASS event of 2021 (the last scheduled event was rained out), and previous winners Garrett Bard and Mikell McGee will be among the entrants. Bard also is the defending IMCA RaceSaver national and PASS champ, and his predecessor for both of those titles, Ken Duke also is expected, as are former track winners Ryan Lynn (six wins), Mike Alleman and Jeffrey Weaver, plus 2020 track champ John Walp.
Walp has never picked up a win at Path Valley and is hoping to make some history with a win Saturday. In the track's long history of PASS racing, a new winner Saturday would be the 75th different one.
With Laurel Highlands open Saturday, some LHSS teams are expected to visit Path Valley as they can continue to their final scheduled race of the season Sunday at Bedford.
Besides the regular Sprint Car purse, Hoosier Tire Mid-Atlantic will award a tire to the Hard Charger for the race (the driver who improves their starting position the most), and VP Racing Fuels will award a case of oil to the top-finishing car displaying their sticker.
Adult admission Saturday is $10 ($3 for kids 10 and under). Pit admission is $30 (plus $5 for first-time competitors). Gates will open at 4 p.m. with warm-ups starting at 6 p.m.
And on Sunday, the Bloomsburg Fair Raceway will present only its second PASS show ever in an event co-sanctioned with MASS. Gates open at 4 p.m., with racing set to begin at 7 p.m. Adult admission for Bloomsburg is $20 ($10 for students 13-18; kids 12 and under free).
The Bloomsburg Fair track, built for horse racing, was one of Pennsylvania's most storied facilities for auto racing but that stopped more than 30 years ago. This year the fair has built a new track strictly for motorsports inside the old horse track, utilizing the same grandstands.
Much of the original track's revered history involved sprint car racing (or "big car" racing, as the earlier Indy-type open-wheeled racers were once called), and this will be the first sprint car race on the new track.