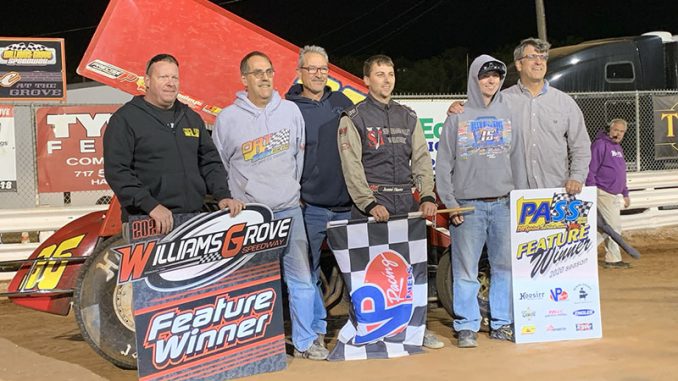 By Frank Buhrman 
MECHANICSBURG, Pa. (Sept. 18) – Sometimes a win is more than just a win.
Like when the driver wins for the first time in more than five years and has only recently became a new father.
Like when it all happens at Williams Grove Speedway, a track where that driver has finished every position second through sixth but never won.
And like when the owner wins for the first time in 44 years at the track and is in the pits on his step­son's wedding weekend.
Jaremi Hanson's win on Friday night met all those criteria, leading to an outpouring of congratulations for him and car owner Rod Ort, also director of the Pennsylvania Sprint Series.
Hanson led all the way in the 20-lap IMCA RaceSaver Sprint Car feature, fending off early chal­lenges from fellow front-row starter John Walp and a late charge from defending series and na­tional champion Ken Duke Jr.
Hanson said in victory lane that he wasn't nervous "at the beginning" about his prospects for the win (because he was starting on the pole), but the last restart with two laps remaining changed that.
"That last caution," he said, "I saw the 67 (Duke) there, and I knew that, if I would have screwed up at all, he would have gone right by my there on the bottom, so a lot of pressure there."
With his young daughter in attendance and his long victory drought ended, Hanson summed up his feelings:
"I'm in happy land right now."
Car owner Ort was equally emotional.
"I think I've been coming here for almost 60 years," he said, "because my parents brought me here when I was just a baby, and racing here since 1976, and wanted to win, just have never been able to get it done."
Ort had come close as a driver himself and with others who had driven his car.
"I'm so thrilled that Jaremi finally pulled it off tonight – it's unbelievable."
Ort also noted the significance to any driver of winning at Williams Grove.
"I've seen so many people here win and wish it could be me, but I've always celebrated with them, because it feels so good to see other people win and reach their dreams, and to finally get it – especially here at the Grove with Jaremi – it's definitely emotional. It's as good as it gets," he said.
Duke finished a close second, with Walp third, Derek Hauck fourth, and Dave Brown fifth.
Feature results – 1. Jaremi Hanson; 2. Ken Duke Jr.; 3. John Walp; 4. Derek Hauck; 5. Dave Brown; 6. Larry McVay; 7. Erin Statler; 8. Kassidy Kreitz; 9. Tom Carberry; 10. Austin Graby; 11. Dave Grube II; 12. Dustin Smith; 13. Landon Price; 14. Jake Frye; 15. Domenic Melair; 16. Reed Thompson; 17. Jared Zionkowski; 18. Jason Roush; 19. Donavyn Knokey; 20. Jacob McClain; 21. Devin Adams; 22. Johnny Scarborough; 23. Kirsten Hess; 24. Dustin Young; 25. Garrett Bard; 26. Ian Detweiler.