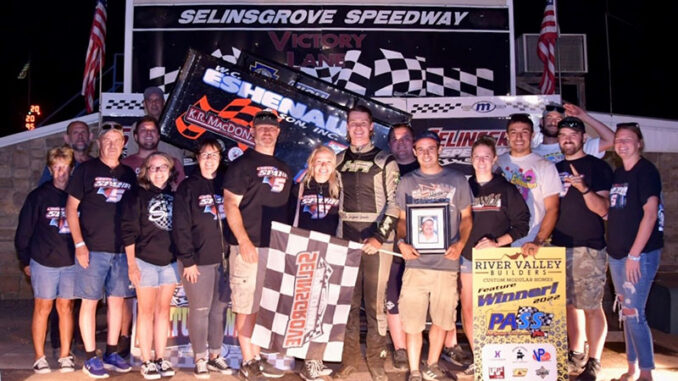 By Frank Buhrman & Stephanie Dodson
SELINSGROVE, Pa. (Aug. 27, 2022) – After a couple of close-but-not-quite finishes at Selinsgrove Speedway, Logan Spahr was due, and the second-year Pennsylvania Sprint Series driver collected that debt Saturday night by scoring his first IMCA RaceSaver Sprint Car victory Saturday after a torrid duel with veteran Doug Dodson.
Spahr took the lead from Tyler Snook on lap three after some side-by-side racing. Then, after a red flag for an incident involving Mike Melair, Austin Reed, and Justin Mills on the front stretch, Spahr lost the lead to Dodson, who had charged from eighth starting.
Undaunted, Spahr went after Dodson and the two swapped the lead back and forth until Spahr adjusted his line to take away Dodson's preferred line.
With the race staying green for the last 17 circuits of the 20-lapper, traffic also became a factor, but Spahr handled that situation like a seasoned veteran. His victory margin over Dodson was about 10 car lengths.
In victory lane, Spahr said he had not expected a win so early in his RaceSaver career; this was his 33rd race.
The excited winner thanked crew and sponsors, referring to them as family. Those sponsors, incidentally, include the Pennsylvania Game Commission, which will sponsor the Race to Hunting Season, an exciting new PASS special event Sept. 17 at Selinsgrove.
Garrett Bard sliced through the field from 10th starting to third. Snook, who battled for the lead in last Saturday's make-up feature at Port Royal Speedway, had his second straight strong showing with a fourth, and Zach Rhodes was fifth.
Reed, the only driver from the lap three incident able to stay in the race, was the race's hard charger, coming from 26th starting to 15th. Rookie Timmy Bittner, who has made multiple hard charges this year, came from 24th to 14th.
Feature results – 1. Logan Spahr; 2. Doug Dodson; 3. Garrett Bard; 4. Tyler Snook; 5. Zach Rhodes; 6. Jeff Weaver; 7. Mike Alleman; 8. Ken Duke Jr.; 9. Logan Jones; 10. Christian Rumsey; 11. Tim Iulg; 12. Seth Schnoke; 13. Scott Frack; 14. Timmy Bittner; 15. Austin Reed; 16. Ryan Lynn; 17. Owen Dimm; 18. Kruz Kepner; 19. Paul Moyer; 20. Croix Beasom; 21. Jason Roush; 22. Jarrett Cavalet; 23. Jake Waters; 24. Mike Melair; 25. Justin Mills; 26. Dustin Young.