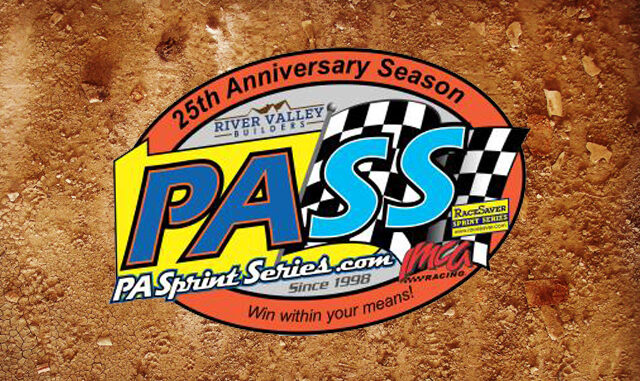 By Frank Buhrman
SPRING RUN, Pa. (July 19, 2023) – The Pennsylvania Game Commission's Race to Hunting Season with the River Valley Builders PA Sprint Series has grown into the "FANiversary" celebrating PASS's 25th season and acknowledging the fans who have supported IMCA RaceSaver Sprint Car racing for that period and it all starts this weekend at Path Valley Speedway.
The PASS sprinters will be joined by the Laurel Highlands sprints for all five events on the expanded Race to Hunting Season FANiversary tour.
Because Laurel Highland officials were among the founders of PASS, Laurel Highland sprints will join the PASS sprinters at all five events on the expanded Race to Hunting Season FANiversary tour. The expanded format will include the July 21 and 22 races at Path Valley, also two events at Port Royal and the biggest event, the "Race to Hunting Season" at Selinsgrove.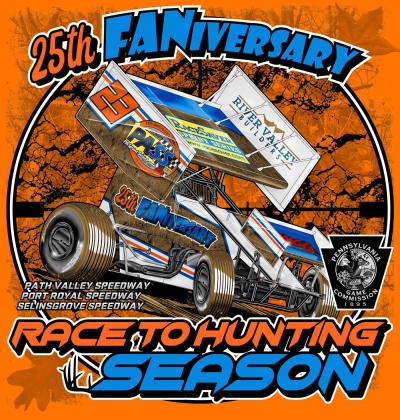 Friday night's Path Valley program is the annual Dr. Crouse's Night of Power, sponsored by Dr. Zachery Crouse, Path Valley co-promoter and veterinarian in Mercersburg and St. Thomas.
Dr. Crouse has contributed to Friday's purse and the PA Game Commission contribution to Saturday's purse means that on both nights, drivers get $500 to win and $250 to start. Additionally, there will be some bonuses including four tires donated by Hoosier Tire Mid Atlantic, and the W.C. Eshenaur & Son Hard Charger Award. Other sponsors will be announced.
On Friday night, gates open at 5 p.m. with warm-ups beginning at 7 p.m. On Saturday, those times will be one hour earlier.
A special Race to Hunting season shirt has been designed to commemorate the tour.
"We plan to give away the bulk of the shirts" stated Tour Director Rod Ort. Each driver who attends any of the five events will receive a free t-shirt and the majority of the shirts will be launched to fans during feature events. "We want to show our appreciation to the fans who have supported us for years and stick around to see us race, often at the end of the evening."
PASS is hoping to have that first batch of free shirts on July 21. 
This weekend's Path Valley events will take place just shy of 24 years and more than 200 races from the first PASS race ever run at Path Valley, on Aug. 4, 2000, making the weekend appropriate to be designated as PASS's 25th Anniversary Celebration.
"We want to make this about the fans as much as possible," Ort said. "Our records are incomplete, but PASS has sanctioned almost – if not more than – 700 races since 1999, and we couldn't have done it unless track promoters knew there would be fans in the seats. We're grateful to each and every one of them."
The PA Sprint Series grew out of the RaceSaver rules package developed by racer/innovator French Grimes in Virginia in 1997. Pennsylvania racers were among the first to see the wisdom in that package and form a companion series.
Founders ran an exhibition season also including cars from a previous 4-cylinder sprint racing group in 1998 and the first race was run at Hesston Speedway on April 24, 1999. Path Valley ran its first PASS race on August 4, 2000.
While other drivers and car owners were involved from the beginning, PASS inducted Tom Worrick, the late Gerry Rinehart, Gordy Lynn and Todd Lynn into its Hall of Fame in 2020 as official "founders" of the series.