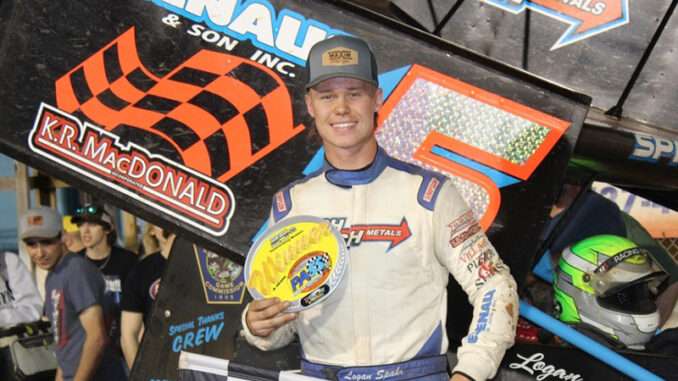 By Frank Buhrman 
MECHANICSBURG, Pa. (April 14, 2023) – It's too early to crown Logan Spahr as king of the 2023 River Valley Builders Pennsylvania Sprint Series season, but it might not be too early to start thinking about it.
The Lewisberry racer turned in a dominating performance Friday at Williams Grove Speedway for his second straight IMCA RaceSaver Sprint Car win of the new season – and a three-in-a-row record dating back to last October's Keystone RaceSaver Challenge.
Spahr showed what his car could do when he recovered from an early spin in his heat race to come from the rear and finish second in a very competitive group. Then, starting fourth in the feature, he overtook Timmy Bittner in the third and fourth turns of the first lap for the lead. He never gave it up.
The race was slowed by four cautions, none for major incidents. After the first three, Bittner attempted unsuccessfully to overtake the leader, and after the final yellow, Seth Schnoke gave it a try, with the same result. Schnoke had taken second from Bittner on lap 16.
The runner-up finish was Schnoke's second straight, and Bittner held on for third. Ken Duke upheld the honor of the veterans with his second straight top-five finish in fourth, and fellow veterans Austin Reed and Erin Statler came home fifth and sixth, respectively.
With a number of early season travelers on hand, six states were represented in the starting field.