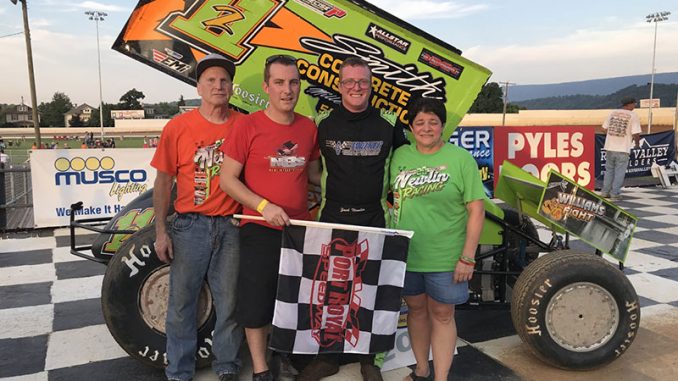 PORT ROYAL, Pa. (June 30) – Zach Newlin picked up his first-ever Pennsylvania Sprint Series win Saturday at Port Royal Speedway Saturday night.
Along with being a huge win for the entire team it was a fulfillment of a promise as Newlin dedi­cated his biggest win to William Sweger, who passed away July 15, 2017, at the young age of 12 after a courageous battle with leukemia.
Newlin later said he was "damn near crying" for the final three laps of the make-up event from May 5.
Newlin had started on the pole and may have breathed a sigh of relief when perennial favorite Jeff Miller got caught up in a early tangle with Dave Grube. Jonathon Jones started third and pulled ahead as the front pair ran side-by-side for the lead. Newlin eventually shot into the lead and never looked back.
Jones held on for second followed by Dylan Shatzer, Nick Sweigart and Drew Ritchey.
Feature results – 1. Zach Newlin; 2. Jonathon Jones; 3. Dylan Shatzer; 4. Nick Sweigart; 5. Drew Ritchey; 6. Ken Duke Jr.; 7. Kyle Ganoe; 8. Kyle Smith; 9. Cale Reigle; 10. Scott Lutz; 11. Josh Dressler; 12. Jay Krout; 13. Mike Alleman; 14. Jaremi Hanson; 15. John Fiore; 16. John Walp; 17. Ryan Lynn; 18. Erin Statler; 19. Colton Hoover; 20. Fred Arnold; 21. Dave Grube; 22. Jeff Miller; 23. Kassidy Kreitz; 24. Ron Aurand; 25. Randy Sterling; 26. Kurt Knepper.