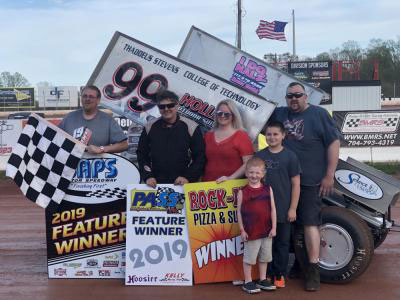 YORK HAVEN, Pa. (April 20) – Defending Pennsylvania Sprint Series champion Zach Newlin joined Cale Reigle in visiting victory lane for the first time this season Saturday at BAPS Motor Speedway. 
Newlin led all the way to win the regularly scheduled 20-lap IMCA RaceSaver Sprint Car feature after Reigle led all 19 laps of the evening's first race, which completed a feature rained out two weeks earlier with one lap run.
In the make-up feature, Devin Adams, Billy Ney, Newlin and Ken Duke Jr. followed Reigle across the finish line.
The first feature was stopped following an early flip by Jake Frye but from that point Reigle sailed in front of the field while Ney, Larry McVey and Newlin dueled behind him.
Duke put on the evening's charge, coming from 11th to fourth over the final seven laps. Ney sur­prised regular fans by racing low, the opposite of his norm.
The scheduled feature saw Ganoe follow Newlin across the finish line, with John Walp, Ken Duke Jr. and Landon Price completing the top five.
Newlin used a high line and grabbed the lead from fellow front-row starter Walp. Duke quickly began to move up, but in this race he would not be unable to advance past fourth again, despite three cautions during the middle laps providing restart opportunities.
Duke had won all three previous PASS features this year.
Hoosier Tire Mid-Atlantic awards a Burnin' Rubber award, a new right rear tire, to the driver accumulat­ing the most feature positions advanced, and for this night, both features counted. Ney advanced 15 spots between the two races to claim the prize.
Next weekend, PASS drivers will join their Laurel Highlands counterparts for a co-sanctioned event Friday at Clinton County Speedway, then return to Port Royal Speedway on Saturday.
Make-up feature – 1. Cale Reigle; 2. Devin Adams; 3. Billy Ney; 4. Zach Newlin; 5. Ken Duke Jr.; 6. Nick Sweigart; 7. Larry McVey; 8. Kyle Ganoe; 9. Jaremi Hanson; 10. Doug Dodson; 11. Tim Stallings; 12. David Grube II; 13. Landon Price; 14. John Walp; 15. Erin Statler; 16. Rick Stief; 17. Keith Prutzman; 18. Alex Potosky; 19. Austin Graby; 20. Johnny Scarborough; 21. Jay Krout; 22. Jake Frye; 23. Scott Lutz; 24. Kassidy Kreitz.
Scheduled feature – 1. Newlin; 2. Ganoe; 3. Walp; 4. Duke; 5. Price; 6. Sweigart; 7. Dave Brown Jr.; 8. Hanson; 9. Ney; 10. Grube; 11. Adams; 12. Prutzman; 13. Reigle; 14. Dodson; 15. Scar­borough; 16. John Fiore; 17. Jared Zionkowski; 18. Kyle Keen; 19. Stallings; 20. McVey; 21. Johnny Yanek; 22. Marie McVay; 23. Frye; 24. Stief.