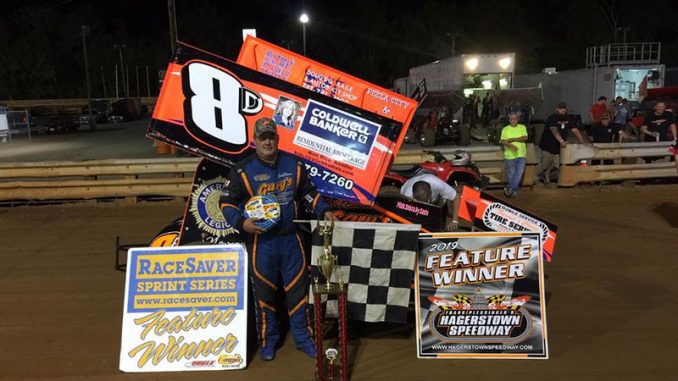 By Jim Haines 
HAGERSTOWN, Md. (May 24-25) – Scott Ellerman used his outside front row starting spot to the best possible outcome Saturday night, staying smooth and never letting challengers move him off his line to the finish of the East Coast Nationals main event at Hagerstown Speedway.
The IMCA RaceSaver Sprint Car checkers were good for $1,000. Ellerman, who admitted to not having much luck at the draw, had run third in the final heat and was left with the number two pill and outside pole start.
"This win means a lot," said Ellerman, who beat fellow Pennsylvania Sprint Series regular Ken Duke to the finish by maybe a car length. "We've had motor trouble and we've had car trouble. It's been real frustrating. We definitely got our confidence back."
Christian Rumsey, Steven Kenawell and Jonathan Jones rounded out the top five in the holiday weekend special, co-sanctioned by PASS, the Laurel Highlands Sprint Series and the Virginia Sprint Series.
Jacob Gomola and Ellerman paced the field to green, with Ellerman grabbing the lead and Gomola tucking in behind while Rumsey pressured in third.
Ellerman was still out front as Duke continued his march toward the front, making it to second near midway of the 25-lapper.
After a late caution, it was all going to be a shootout for the win but Ellerman never wavered as Duke was right on him with Rumsey looking for a way by as the checkered flew.
Zach Newlin was able to overcome all the sprinters on hand on night one plus a bad case of the flu to take the Friday win at Hagerstown.
Duke had started deep in the field and used the low line to work his way to second by lap 10, bringing Rumsey as well as Scott Lutz with him.
The field was closing up before a caution came out and making it a run to the checkers. Duke kept the pressure on, getting even coming off turn four almost every lap but Newlin got the best medicine he could have with the win.
Rumsey, Lutz and Jaremi Hanson followed.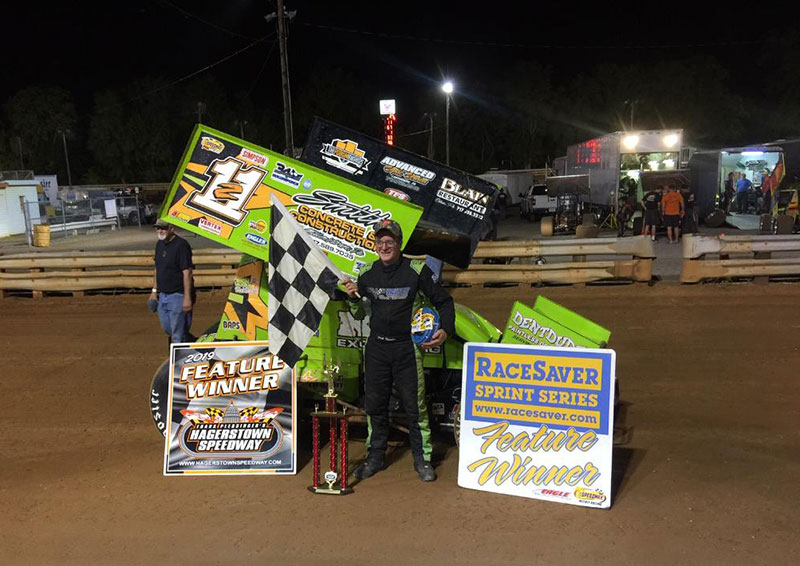 The field of 40-plus entries included racers from Pennsylvania, Maryland, New York, New Jersey, Virginia and North Carolina.
Feature Results
May 24 – 1. Zach Newlin; 2. Ken Duke Jr.; 3. Christian Rumsey; 4. Scott Lutz; 5. Jaremi Hanson; 6. Ryan Lynn; 7. Larry McVay; 8. Brad Mellott; 9. Scott Ellerman; 10. Doug Dodson; 11. Jonathan Jones; 12. Daren Bolac; 13. Mike Leraas; 14. Reed Thompson; 15. Jake Frye; 16. Jake Karklin; 17. Greg Dobrosky; 18. Jacob Gomola; 19. Tyler Denochick; 20. Donnie Hendershot; 21. Jared Zionkowski; 22. Roger Irvine; 23. Dylan Proctor; 24. John Karklin.
May 25 – 1. Ellerman; 2. Duke; 3. Rumsey; 4. Steven Kenawell; 5. Jones; 6. Newlin; 7. Leraas; 8. Lutz; 9. Gomola; 10. Jake Karklin; 11. Lynn; 12. Dodson; 13. Denochick; 14. Mellott; 15. McVay; 16. John Karlin; 17. John Walp; 18. Jeralf Harris; 19. Dobrosky; 20. Hanson; 21. Domenic Melair; 22. Hendershot; 23. Fred Arnold; 24. Proctor.