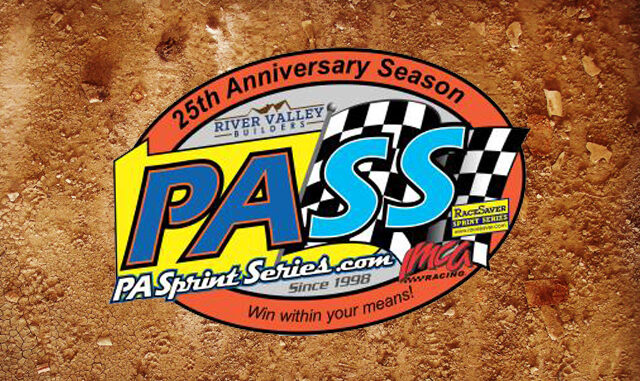 By Frank Buhrman 
YORK, Pa. (Jan. 30, 2023) – The River Valley Builders Pennsylvania Sprint Series will celebrate 25 years of the best economy Sprint Car racing, beginning with a booth at the annual Racing Xtravaganza show Friday and Saturday, Feb. 3-4 in York.
The season's first race is scheduled for Saturday, April 1, at Selinsgrove Speedway.
Thirty-five races are scheduled for the anniversary season, with the possibility of more being added. Once again, the series will be characterized by close racing with youngsters and veterans matching wits and talent in sprint cars powered by RaceSaver rules sealed engines. That national rules package is shared by regional series and tracks throughout the country, with an estimated 700-plus cars competing nationally.
IMCA, the nation's oldest sanctioning body, sanctions the series nationally.
Last season, 13 different drivers took the feature checkered flag in PASS races despite a dominating performance by Garrett Bard of Wells Tannery, who won 12 races, tying the best single-season performance in series history. Bard also captured his unprecedented third straight championship.
He is now the all-time PASS victories leader with 33 wins, and was the IMCA RaceSaver national champion in 2020.
Bard has said he plans to travel more in 2023 and doesn't plan to run for another title, but he'll return frequently along with a host of other contenders, including 2022 series rookie of the year Logan Spahr of Lewisberry, who held off Bard to win the season-ending Keystone RaceSaver Challenge, the series' Super Bowl-equivalent event.
Austin Reed of Etters, Doug Dodson of Middletown, Ken Duke Jr. of Selinsgrove, and Kruz Kepner of Kreamer, who completed the top five in the 2023 standings, also should be back. Each was a feature winner.
They will tackle a schedule that has more than half its races on the big half-miles of Selinsgrove (11 events) and Port Royal (10). The quarter-mile Path Valley "bullring" has five races scheduled. Other events are set to be held at Bedford, Big Diamond, Bloomsburg, Hagerstown, Lincoln, and Williams Grove, with additions still possible.
PASS is grateful for the return of River Valley Builders of Selinsgrove as its series sponsor. The company is a leader and innovator in custom manufactured homes, serving a broad region of Pennsylvania and New York.
PASS also appreciates Apache Tree Service and Penns Valley Meat Market, which are its sponsors at Selinsgrove and Port Royal, respectively. The PA Game Commission also is expected to finalize plans soon for its sponsorship involvement again this year, and there are multiple contingency award sponsors.
A number of new drivers have indicated plans to compete, and they will face series veterans starting with Mike Alleman of Port Royal, who raced in the first-ever PASS event on April 24, 1999, at Hesston Speedway.
PASS began when Pennsylvanians took notice of a new rules package developed by Virginia racer and entrepreneur French Grimes, whose Virginia Sprint Series had begun in 1997. In '98, an exhibition season of six races was run, including RaceSaver cars and competitors in a 4-cylinder sprint series in Pennsylvania. The success of that effort resulted in a full schedule of events in '99, all at Hesston.
Path Valley Speedway joined the tour in 2000, Clinton County and Trail-Way Speedways ran their first events in 2001, and within the next three years, Port Royal, Williams Grove, Lincoln, BAPS/Susquehanna, Bedford, and Gamblers/Hidden Valley had all run PASS races.
About 10 years ago, a second regional series, which became the Laurel Highlands Sprint Series, was created, and several of the early PASS tracks now run with that group handling primary sanction.
While quite a few former RaceSaver drivers now compete in 410, 358, or 360 sprints, others have remained faithful to PASS. Alleman, Duke, Erin Statler of Carlisle, Reed Thompson of Petersburg, and Ryan Lynn of Hollidaysburg, have all driven more than 200 PASS races, as have a couple of other drivers who primarily run Laurel Highlands events today.
The Selinsgrove season opener will be followed by events at Port Royal (April 8), Williams Grove (April 14), and Path Valley (April 15). The season will conclude with the Keystone RaceSaver Challenge at Port Royal on Oct. 21.
The Racing Xtravaganza show will be open from 3-9 p.m. on Friday, Feb. 3, and from 10 a.m.-9 p.m. on Saturday, Feb. 4.
For the latest schedule and other news about the River Valley Builders PA Sprint Series, visit www.pasprintseries.com, the PA Sprint Series Facebook page, or @pasprintseries on Twitter.