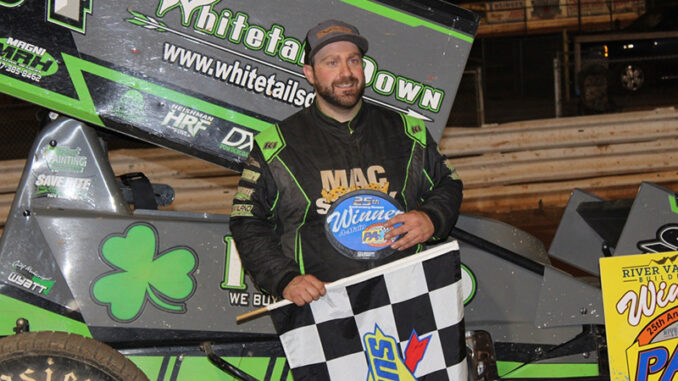 By Frank Buhrman
SELINSGROVE, Pa. (June 10, 2023) – Austin Reed probably hasn't had the 2023 River Valley Builders Pennsylvania Sprint Series season that his team had hoped for, but a hard-fought win at Selinsgrove Speedway Saturday night just might prove the turning point.
The Etters driver took advantage of an outside front row starting spot to out-drag Kenny Heffner for the early lead, then held off the most determined of charges by fellow veteran Doug Dodson to earn the IMCA RaceSaver Sprint Car victory.
Dodson, who had finished ahead of Reed in their heat race, finished 0.613 seconds back at the checkered flag, after trying every move available to get by. Starting fourth, he had moved into the runner-up position on the first lap.
The two drivers waged their most heated battle after a lap nine caution when Dustin Young and Colton Hoover tangled in turn four. The race went non-stop from that point, allowing the two racers to put on a hard-racing exhibition.
Six-time winner Logan Spahr took third from Heffner late, completing an impressive charge from 11th starting that left his fans wishing the race had been 25 laps instead of 20. Heffner, victim of all kinds of bad luck so far this year, hung on for a welcome fourth, with Seth Schnoke continuing his impressive run of top-five's with a fifth.
In the first seven races of 2023 prior to Saturday night, Reed had a best finish of fourth and an average finish of just better than 12th. Last year after seven races, he had a second and a third, with an average finish of better than fifth. Saturday's win will narrow that performance gap and maybe set the stage for better things.
Next Saturday, the River Valley PASS tour makes its only 2023 stop at Hagerstown Speedway, running a co-sanctioned event with the Virginia Sprint Series and Laurel Highlands Sprint Series.