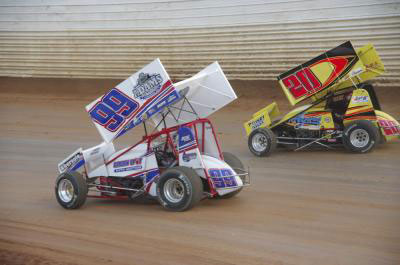 LOCK HAVEN, Pa. – Pennsylvania Sprint Series teams have one of their most demanding week­ends Aug. 23-25 with three races scheduled across Central Pennsylvania.
On Friday night, PASS/IMCA RaceSaver Sprint Car drivers join their Laurel Highlands Sprint Se­ries colleagues for a co-sanctioned event at Clinton County Motor Speedway. Then they head to two of their home tracks, racing Saturday at Port Royal Speedway and Sunday at BAPS Motor Speedway.
Port Royal's will be the sixth PASS event at Port Royal this year, with one rainout, and the last before the Keystone RaceSaver Challenge on Oct. 12. PASS veterans claimed the first three fea­tures with Ken Duke Jr. taking two and Nick Sweigart the other, but since then, youth has pre­vailed. Devin Adams claimed the June 8 feature just after graduating from high school, and Gar­rett Bard won on July 20 in just his fourth outing in the division and first at the Port.
Port Royal has averaged the largest car turnout of all PASS tracks this year, so Saturday's show should be memorable.
On Sunday, PASS is at BAPS for the Justin Snyder Salute to the Troops night. It's also HTMA night with the hard charger picking up a right rear tire from Hoosier Tire Mid Atlantic.
This also will be the sixth PASS event of the season at BAPS, also with one rainout, and defend­ing series champion Zach Newlin is the only repeat winner. Single wins have been claimed by Cale Reigle, John Walp and Sweigart.
Strong car turnouts also have been the norm at BAPS, with "B" qualifiers required for all but one of the previous events.