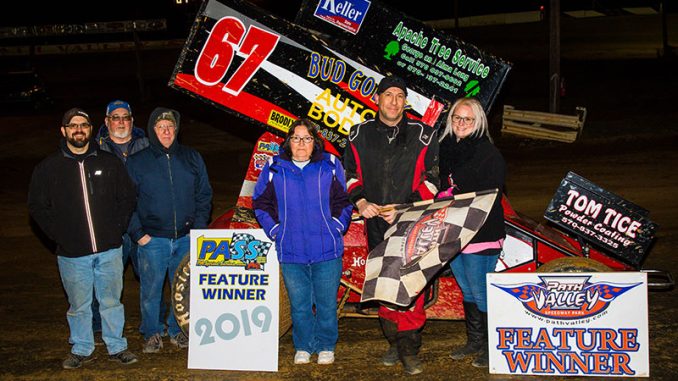 SPRING RUN, Pa. (March 23) – 2016 Pennsylvania Sprint Series champion Ken Duke Jr. gave notice that he'll be in the hunt for a second championship in 2019, winning the season-opening feature event Saturday at Path Valley Speedway.
Duke made a low-side pass of Kyle Ganoe just past the halfway mark in the race and worked lapped traffic over the final circuits to grab the IMCA RaceSaver Sprint Car win. Ganoe held on for a runner-up finish, followed by hard-charging John Walp, Jeff Weaver and Devin Adams.
Ganoe had grabbed the early lead from the pole, with outside front row starter Dave Grube spin­ning on the first lap. That moved Cale Reigle into second and that pair led the field for the first nine laps until a red flag for Kyle Keen's tip-over after an incident with Austin Graby.
On the restart, Duke passed Reigle, then chased down Ganoe.
The race went under caution one last time when Reigle damaged his steering in an encounter with an infield marker tire. Duke pulled away when the green flew again and worked traffic to perfec­tion until the checkered flag.
After taking a weekend off, the PASS sprinters tackle their first two-race weekend on April 6 and 7, at Port Royal Speedway on Saturday and Sunday at BAPS Motor Speedway.
Feature results – 1. Ken Duke Jr.; 2. Kyle Ganoe; 3. John Walp; 4. Jeff Weaver; 5. Devon Ad­ams; 6. Jared Zionkowski; 7. Kassidy Kreitz; 8 Daren Bolac; 9. Nick Sweigert; 10. Jake Frye; 11. Keith Prutzman; 12. Dave Grube; 13. Doug Dodson; 14. Cale Reigle; 15. Austin Graby; 16. Kyle Keen.