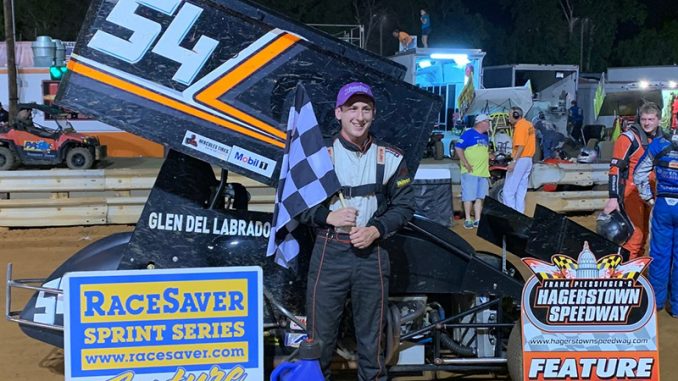 By Jim Haines
HAGERSTOWN, Md. (June 19) – Nobody watching Mike Melair would ever have known this would become his first win in an IMCA RaceSaver Sprint Car victory Saturday at Hagerstown Speedway.
Thirty cars vied in the event co-sanctioned by the Virginia Sprint Series, Pennsylvania Sprint Series and Laurel Highland Sprint Series and Melair tuned up for the main event with a dominating heat win.
Melair and Jason Roush then paced the feature field to green with Melair out front up top and Mikell McGee falling in behind before a car got a little too sideways causing a few cars to get together.
Once back to green, Melair was off again followed by McGee and soon Ryan Lynn was chasing them down in third. Lap after lap, Melair stayed smooth, never putting a wheel wrong even as traffic came up.
Melair's brother Domenic came through the field and was soon on Lynn for third and using the brother's high line to do it.
With laps winding down, Mike Melair and McGee were still staying right with each other as Domenic Melair went high around Lynn for third before time ran out to climb farther as Mike Melair flashed under his first waving checkered flag.
McGee, Domenic Melair, Ryan Lynn and Garrett Bard ran second through fifth, respectively.
The Virginia Sprint Series takes off next week before heading back to Langley Speedway on Saturday, July 3 for the annual Fourth of July race.
Feature results – 1. Mike Melair; 2. Mikell McGee; 3. Domenic Melair; 4. Ryan Lynn; 5. Garrett Bard; 6. Dylan Shatzer; 7. Ken Duke; 8. Scott Lutz; 9. Devin Brenneman; 10. Jason Roush; 11. Austin Reed; 12. Donny Hendershot; 13. Drew Young; 14. Michael Alleman; 15. Mike Leraas; 16. Josh Spicer; 17. Erin Statler; 18. Brad Mellott; 19. Jarrett Cavalet; 20. Will Brunson; 21. Ron Aurand; 22. Bill Rice; 23. Steve Kenawell Jr.; 24. Scott Frack.