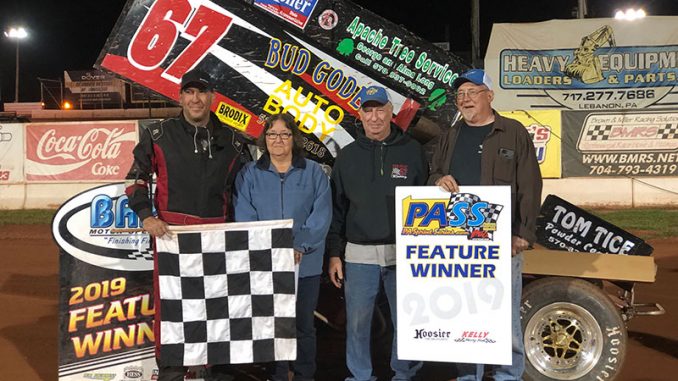 By Frank Buhrman 
YORK HAVEN, Pa. (Aug. 25) – Ken Duke Jr. is enjoying a season most racers can only dream about, winning races and leading both the Pennsylvania Sprint Series and national IMCA Rac­eSaver Sprint Car point standings, but one track was conspicuously missing from the top tier of his 2019 resume: BAPS Motor Speedway.
On Sunday night, Duke took care of that small discrepancy with a convincing victory in the 20-lap PASS feature at the York County speedway.
It's not that you could call Duke's performance at BAPS poor: he had a 12-race streak of top 10 finishes at BAPS dating to early 2017 but his last victory at the track had come nearly three years ago, on Sept. 3, 2016. With the victories mounting at other regular PASS tracks like Port Royal, Path Valley, Clinton County and Duke's hometown Selinsgrove Speedway, BAPS stood out.
No more.
After drawing the outside front row starting position Sunday, Duke out-charged pole sitter and Saturday night Port Royal winner Landon Price for the early lead, then held off challenges from Price and Dylan Shatzer after subsequent caution flags to establish dominance.
After a final caution brought on a one-lap dash to the checkered flag, he was leading Shatzer by 1.216 seconds.
It was Duke's eighth PASS win of 2019 and his tenth overall.
"I knew when you're starting on the front row, we were going to have a pretty good chance. If you can get in the clean air, that makes everything better when you can do that," he said. "This is our 10th win this year, so I don't know what to say . . . we're just really happy to be here tonight."
Shatzer took second from Price but had nothing for Duke in the end. Doug Dodson was third.
Feature results – 1. Ken Duke Jr.; 2. Dylan Shatzer; 3. Doug Dodson; 4. Landon Price; 5. Zach Newlin; 6. John Walp; 7. Jake Frye; 8. Larry McVay; 9. Dylan Proctor; 10. Keith Prutzman; 11. Devin Adams; 12. Erin Statler; 13. Tom Carberry; 14. Jason Dunn; 15. Garrett Bard; 16. Jay Krout; 17- Domenic Melair; 18. Billy Ney; 19. Ian Cumens; 20. Dylan Smith; 21. Kruz Kepner; 22. Alex Potosky; 23. Kyle Keen; 24. George Riden; 25. 8-Nick Sweigart