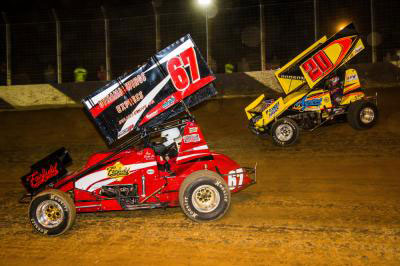 SPRING RUN, Pa. (April 13) – Ken Duke Jr. preserved his 2019 Pennsylvania Sprint Series winning streak Saturday night, winning the 20-lap feature race at Path Valley Speedway more than four tenth's of a second over Doug Dodson.
The Selinsgrove racer has now captured all three IMCA RaceSaver Sprint Car features run so far, but this was hardly an easy win. With 21 of the 22 sprinters on hand making the call for the feature, traffic was an incessant issue on the wide Path Valley quarter mile.
Mike Alleman grabbed the early lead but just as the leaders were moving into heavy traffic, a lap seven caution bunched the field. On the restart, Duke, who had moved from sixth starting position into third, shot to the front.
The longest green-flag run of the night followed a lap nine restart and Duke made it through traffic well enough to keep his challengers at bay. Terry Schaeffer got into the turn three wall with two laps remaining, but on the restart, Duke chose the middle lane and held off the outside-running Dodson for the win.
Nick Sweigart, Jake Frye and Alleman rounded out the top five.
The second-place finish was also the season's best for Dodson, a PASS rookie with extensive experience in other sprint car divisions and super sportsman. This year's large PASS/IMCA rookie class includes several drivers who are rookies in name only: Keith Prutzman has been racing for more than four decades.
On Saturday night, April 20, PASS returns to BAPS Motor Speedway to complete a feature called due to rain on April 7 after one lap had been completed. A full show of heats and another 20-lap feature will be run as well.
On Friday, April 26, PASS will join the Laurel Highlands Sprint Series for a co-sanctioned event at Clinton County Motor Speedway, and it will return to Port Royal Speedway on April 27.
Feature results – 1. Ken Duke Jr.; 2. Doug Dodson; 3. Nick Sweigart; 4. Jake Frye; 5. Mike Alleman; 6. Zachery Newlin; 7. Tyler Cochran; 8. Drew Ritchey; 9. John Fiore; 10. Devin Adams; 11. Kyle Ganoe; 12. John Walp; 13. Brad Mellott; 14. Cale Reigle; 15. Colton Hoover; 16. Terry Schaeffer; 17. Donnie Hendershot; 18. Keith Prutzman; 19. Dave Wickham; 20. Jim Kennedy; 21. Dave Graber; 22. Ryan Lynn.