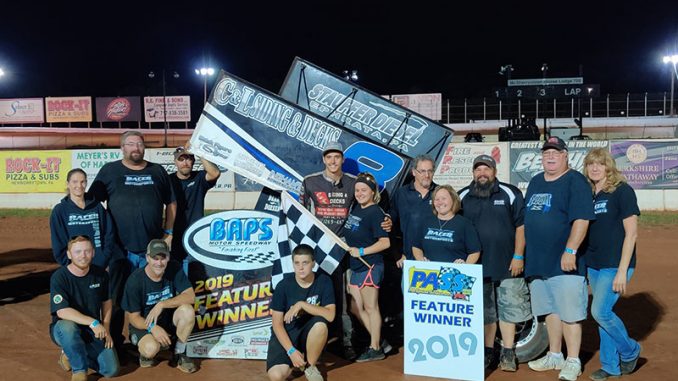 By Frank Buhrman 
YORK HAVEN, Pa. (Aug. 3) – Nic Sweigart passed Zach Newlin on the final lap to claim the vic­tory in Saturday's 20-lap IMCA RaceSaver Sprint Car feature at BAPS Motor Speedway.
It was Sweigart's second win of the season and the second of his career at York Haven.
The race was co-sanctioned by the Pennsylvania Sprint Series and the Mid-Atlantic Sprint Series.
A five-time winner at BAPS over the last two seasons, Newlin set sail and built a lead of nearly three seconds before a lap seven caution.
Sweigart moved through the field from his ninth starting position. On lap 12, he passed Eddie Wag­ner for the runner-up spot and set his sights on Newlin, charging around high against the outside wall.
The momentum from that high run enabled him to catch the leader in the first set of turns and slip past on the backstretch. Sweigart then swooped low in three and four, denying Newlin his pre­ferred line and preserving the win.
Wagner held on for third with John Walp fourth and Tim Tanner Jr. fifth.
Next up for PASS is a doubleheader weekend, with a rare Friday night show at Path Valley Speed­way Park on Aug. 9, beginning with warm-ups at 7 p.m. Then, on Saturday, PASS guests at Selinsgrove Speedway in a show that starts at 7:30 p.m.
Feature results – 1. Nick Sweigart; 2. Zach Newlin; 3. Eddie Wagner; 4. John Walp; 5. Tim Tan­ner; 6. Devin Adams; 7. Billy Ney; 8. Larry McVay; 9. Keith Prutzman; 10. Dave Grube; 11. Dom Melair; 12. Ricky Dieva; 13. Landon Price; 14. Kyle Keen; 15. Jay Krout; 16. Tom Carberry; 17. Jake Frye; 18. Scott Frack; 19. Logan Diehl; 20. Rick Stief; 21. Jared Zionkowski; 22 Johnny Ya­nek; 23. Doug Dodson; 24. Tim Stallings.