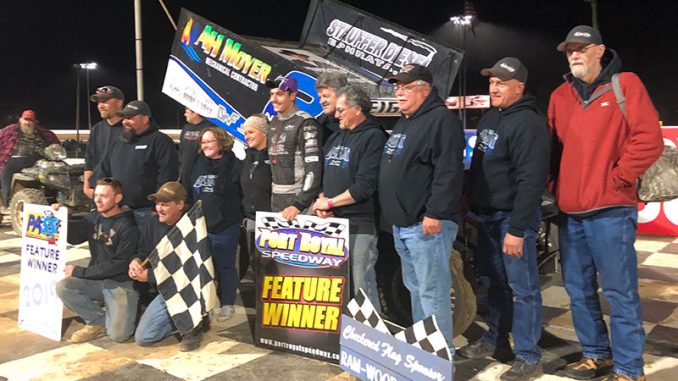 PORT ROYAL, Pa. (April 27) – In a performance worthy of his nickname, "Nitro" Nick Sweigart blasted the Pennsylvania Sprint Series field to earn his first victory since 2017 in the 20-lap fea­ture Saturday at Port Royal Speedway. 
Flying past competitors on the outside from his 10th starting position, Sweigart took the lead from Jaremi Hanson on lap seven and never looked back, scoring the win by a 1.448-second margin over Jonathan Jones, who passed Hanson in the fourth turn of the final lap. 
Zach Newlin finished fourth, with Ryan Lynn taking fifth. 
Sweigart raced to seven top five finishes last year, including two runner-ups, but he hadn't visited victory lane since August of 2017 at BAPS Motor Speedway. He had added two more top fives this season and had finished in the top 10 in all five previous PASS IMCA RaceSaver Sprint Car events. 
A stellar field of 39 cars was in the pits and with the large field, Port Royal lead promoter Steve O'Neal added two starting positions to enable 26 cars to race in the feature. 
PASS representatives raised nearly $300 from team members who purchased decals for former series regular Dylan Shatzer, injured in a recent highway accident. 
The series returns to action this Saturday, May 4 at Path Valley Speedway and to Port Royal on Saturday, May 11. 
Feature results – 1. Nick Sweigart; 2. Jonathan Jones; 3. Jaremi Hanson; 4. Zach Newlin; 5. Ryan Lynn; 6. Ken Duke; 7. Drew Ritchey; 8. Colton Hoover; 9. Kassidy Kreitz; 10. Johnny Scar­borough; 11. Devin Adams; 12. Cale Reigle; 13. Nathan Gramley; 14. Reed Thompson; 15. Scott Ellerman; 16. Robert Garvey; 17. Josh Dressley; 18. Doug Dodson; 19. Dylan Proctor; 20. Jay Krout; 21. Dave Wickham; 22. Fred Arnold; 23. Jake Waters; 24. Brett Jaycox; 25. Wally Eshenaur; 26. Kyle Ganoe.