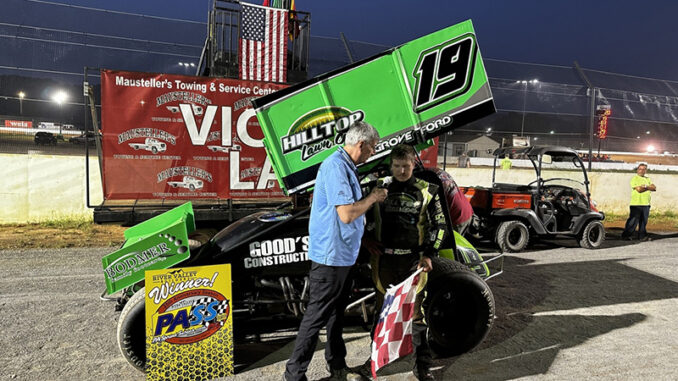 By Frank Buhrman
BLOOMSBURG, Pa. (June 29, 2023) – The Kruz Missile is back in victory lane.
Kruz Kepner parlayed a fourth-place starting position with a long green-flag run to capture his second career River Valley Builders Pennsylvania Sprint Series victory Thursday night at Bloomsburg Fair Raceway.
The fifth-year PASS driver from Kreamer, a small community just west of Selinsgrove, put his no. 19 IMCA RaceSaver Sprint Car in victory lane for the first time since last April, when he won at Path Valley Speedway.
An earlier win at his home track in Selinsgrove was lost when the car weighed light after the race. The victory came in Kepner's 92nd career PASS start.
Veteran New Jersey invader Larry McVay finished second, 1.66 seconds back. The Bordentown resident, a regular with the Mid-Atlantic Sprint Series, equaled his career-best PASS finish.
The youth brigade filled out the top five, with Timmy Bittner taking third, ahead of Seth Schnoke and Tyler Snook of Beavertown.
The 20-lap feature nearly went nonstop, but a Paul Moyer incident in turns one and two brought out a red flag with two laps to go. Moyer was OK.
Veteran Mike Koehler qualified for the feature but was unable to start, and Andrew Boyer took his place as first alternate. Nineteen of the 24 starters finished the feature.