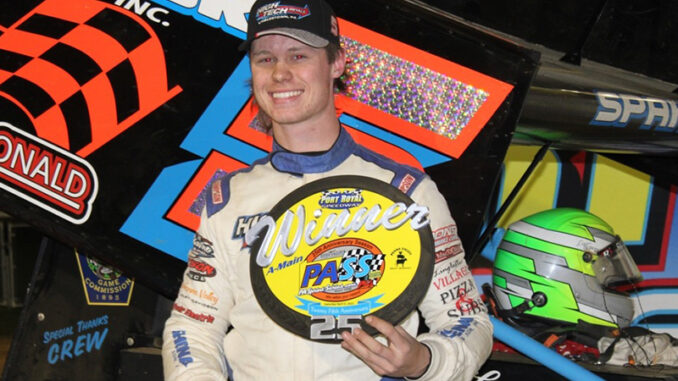 By Frank Buhrman
PORT ROYAL, Pa. (April 8, 2023) – After hitting his stride at the end of the 2022 River Valley Builders Pennsylvania Sprint Series season, Logan Spahr picked up right where he left off Saturday night.
Spahr wired the field to capture the 20-lap 2023 IMCA RaceSaver Sprint Car main event at Port Royal Speedway, where the series is sponsored by Penns Valley Meat Market.
The race kicked off the Silver Anniversary season for PASS, one of the oldest IMCA RaceSaver regional groups in the nation.
Spahr led a youth movement that also included runner-up Seth Schnoke (3.07 seconds back), fourth-place Dylan Shatzer and fifth-place Zach Rhodes. Another member of the youth contingent, Owen Dimm, came home sixth.
That left it up to third-finishing Ken Duke Jr. of Selinsgrove to uphold the honor of the veterans, and his run did so nicely. Duke is hardly ancient, but he has more PASS starts (238) and victories (22) than the other top-five finishers combined (131 and three, respectively).
Spahr, who moved from micro-sprints into full-sized sprints in mid-season 2021, scored his first win late last August in his 33rd PASS start, then added no. 2 in September and no. 3 in October, the latter coming in the prestigious Keystone RaceSaver Challenge at Port Royal that closed out the PASS season. All total, he has now won four of his last eight PASS events.
Pill draws didn't hurt Saturday. Spahr drew the outside front row for the first heat race, outran Josh Beamer for the early lead and won by 0.859 seconds.
Then he drew the pole for the feature and bested Duke for the early lead, with Shatzer quickly moving into second. Three cautions flew during the feature, all for minor incidents, and Spahr held off Shatzer's determined bids after each restart.
That left it to Schnoke, the driver with the least PASS experience, to provide a bit of entertainment to the healthy cold-night crowd.
In only his 17th PASS start, Schnoke barely missed out on winning his heat, finishing side-by-side with veteran Mike Alleman (.021 second margin of victory), then quickly moved up from fifth starting spot in the feature. By the midway crossed flags, Schnoke was in third and had caught Shatzer, and the pair repeatedly swapped the runner-up spot in some thrilling side-by-side racing.
Schnoke finally took the position for good with two laps to go. Duke then slipped by Shatzer at the end for third.
Josh Spicer earned an especially impressive Penns Valley Meat Market Hard Charger Award. Starting 20th, he had advanced into the top 10 by lap 12, when a spin sent him to the rear of the field. In the last eight laps, he moved back up to 12th for his finish, for an official gain of eight positions but an actual advance of more than twice that.
Rookie Derek Swartz turned in an impressive first run with PASS, barely missing qualifying via his heat, then finishing a strong third in the B-Main. Required to start on the back row because it was his first race, he moved up eight spots to finish 17th.
Five drivers made their first runs with PASS Saturday, representing what promises to be a strong 2023 field of rookies. Kasey Weaver, another member of that group, also qualified for the feature but experienced early mechanical ills and was the first car out.